An eight seed? Are you serious?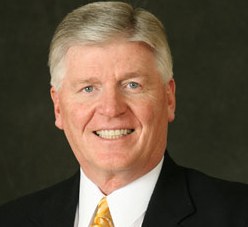 Tom O'Connor says "I'm the worst NCAA selection committee chairman of all-time."
Over the course of this afternoon, I had discussions with PostmanE and PostmanR as well as a member of the mainstream media on the potential seeding for IU in the NCAA Tournament. The consensus seemed to be that the Hoosiers were going to be a 5 or a 6. After all, they were 14-4 in a power conference and lost on a fluke shot to Minnesota in the conference tournament.
Shortly after the brackets were announced and the Hoosiers were revealed as a No. 8 seed, I was baffled. Does the NCAA Tournament committee really believe that IU is not one of the top 28 teams in the country? They've been ranked all season and they've got a top 25 RPI. Sure, they've been playing poorly in their last six games, but the overall body of work is strong. Of their seven losses, five are to tournament teams: Connecticut, Michigan State, Wisconsin twice and Xavier.
The reward for a resume that clearly screams a No. 6 at worst? A No. 8 in the East region with a potential second round game with the No. 1 overall seed in the tournament. In other words, barring a miracle, the season will be over a week from today and perhaps five days from today if IU can't beat Arkansas. My optimism for a potential tourney run was marginal at best. Now, it's essentially non-existent. Hey, there's always next year, right?
Related (Adobe Reader required to view bracket):
Filed to: NCAA Tournament