The Morning After: Minnesota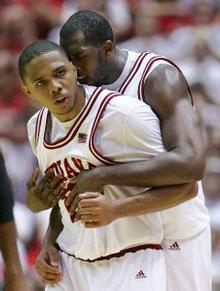 Judging by the comments in our game thread last night, this was not a game most of you were stressing. That makes sense: It's a late-season Big Ten game against Minnesota, the conference is now fully out of reach, and it comes after a lackadaisical 30 point drubbing at the hands of Michigan State. Not to mention the Coaching Situation of Which We Do Not Speak.
Moreover, those of us watching at home got to feel the pangs of senior night, but it's not like this is the last time we get to see D.J. White suit up. There's Penn State on Saturday, then the Big Ten Tournament, then the NCAA's, then, if you really want to get devoted, you can become a fan of whatever NBA team takes White in the late first round. (And Eric Gordon in the lottery.) So no matter which way you slice the thing, last night's game was a little boring. It was emotional without being heartbreaking, important without being dire, and interesting without being enthralling. It was IU-Minnesota on
March 5. Apathy ruled the day.
— Of course, it didn't help that the Hoosiers were so sluggish for the first 30 minutes of the game. If we were nonplussed, what were they? D.J.'s three aside – at least he got that under his belt as a Hoosier – was there a single exciting moment in the first half?
Part of that is the situation: March 5 vs. Minnesota. But part of that seems worrisome. Since Dan Dakich took over as head coach, he's done the following:
Barely beaten then-0-13 Northwestern in a defensively horrid performance.
Barely beaten a bubble-scrounging Ohio State team at home; again, not a great defensive performance.
Gotten absolutely blasted out of the gym against one-time offensive force of nature (1.5 PPP!) Michigan State.
Played sluggish, ugly basketball at home against the 8-8 Minnesota Gophers and Tubby "How long do I have to be mediocre before people stop calling me great?" Smith.
In each of the above games, the defense regressed while the offense has improved. If I remember correctly, Dakich claimed at the beginning of his tenure that he planned to keep the offense in place, but that he would tinker with the defense. Maybe four games is too small a sample size to judge, but note to Senor Dakich: STOP TINKERING.
Put down your tinker toys. Stop touching the tink. De-tink yourself. Whatever it is you're doing – playing more man-to-man, adjusting rotations, whatever it is – stop it. Stand there on the sideline, call the occasional inbounds play, and get the hell out of the way.
— Now is the time of the year when people are sincerely focused on seeding, bubble position, and Bracketology. If the Hoosiers were seeded today (according to ESPN bracket pointy brain Joe Lundardi), the Hoosiers would be a No. 4 seed. That position needs a little improving – those 4/13 and 5/12 games are usually rife with upsets. So while the impending Big Ten Tourney is an after thought in IU's tourney hopes, winning the thing and getting up to a No. 3 or maybe (but probably not) a No. 2 would be spectacular. That will require IU to play defense, though; let's not hold our breath.
— Finally, a last note about the seniors. Our game wrap alluded to it last night, but is there a bigger trooper in college basketball than D.J. White? In high school, recruits like White are promised the world. They're promised a national title shot, conference wins, NBA money, and, if they're Memphis recruits, who knows what else. But most of all, they're promised – or they should be promised – stability. A father figure. Someone to watch out for them when they're out and away from their cocoon for the first time in their lives.
D.J.'s never had that. He got to IU as a raw prospect and suffered through two .500 seasons under Mike Davis. When Davis finally pooled some post talent together, D.J. and Marco Killingsworth were set to dominate the Big Ten. After Killingsworth's incredible performance against Duke – I'll never forget the sound Assembly Hall made when he dunked on that fast break – he broke down, and just as soon as D.J. recovered from his injury he was hurt yet again.
And then Mike Davis got fired. And then his best friend, Robert Vaden, left. And then he put his trust in a new coach – decided to stay at IU – only to have that trust revoked because Sampson couldn't find it in his power to keep his damn hands off his cell phone.
Yet there D.J. was, last night, banging down low, hitting mid-rangers (something his game used to sorely lack), dropping a three, rebounding, and, yes, smiling. D.J. was promised a lot at IU, and has received very little in return. He deserved every cheer he got last night, and every single penny of the money he'll get this summer.
Filed to: Adam Ahlfeld, D.J. White, Dan Dakich, Eric Gordon, Minnesota Golden Gophers, Tubby Smith