Ebanks bolting from Bloomington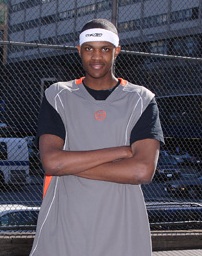 PostmanR addressed the possibility of Devin Ebanks backing out of his letter of intent with Indiana and today, another report from Adam Zagoria's blog states that the forward from Connecticut will do just that. Here is what Zagoria reported earlier today:
"I've heard from about 25 schools," Lawrence McGugins, Ebanks' AAU coach, said Thursday by phone. "It's not going to be open recruiting. He'll let us know the 2-4 schools (he's considering) and I'll contact the schools to let them know."

Ebanks, ranked No. 2 among small forwards and No. 13 overall in the Class of 2008, has opted to de-commit from Indiana after former coach Kelvin Sampson was fired for repeated recruiting violations. Ebanks chose Indiana last summer over Miami, Rutgers and Texas.
Not a huge surprise here. Rick Bozich was the first to report Ebanks' interest in Memphis and the Tigers appear to be the odds on favorite to land him. As far as Indiana fans are concerned, this hurts Indiana's chances to be a top tier club next season, but beyond that the effect on the program should be minimal. Ebanks was likely a one-and-done and if he doesn't want to come now that Sampson is gone, let him go and move on. The most important recruiting work still remains: keeping the current roster intact for next season as well as Terrell Holloway, Matt Roth and Tom Pritchard. Let's hope the next coaching staff can do just that.
Filed to: Devin Ebanks