Friday Roundup: Wisconsin, Kravitz and Knight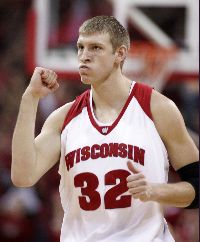 — Wisconsin, barring a total choke job, wrapped up at least a tie for the Big Ten title with a 57-42 beat down of Michigan State at the Kohl Center. A couple of observations: Brian Butch should be a first team All-Big Ten selection. Second, is there a more disappointing team than Michigan State? A lot of talent on that team, but something just isn't right. I'm shocked at how bad of a season Drew Neitzel is having. And finally, Wisconsin only had one turnover in the entire game. That's a pretty amazing statistic.
— Bob Kravitz of the Indianapolis Star wrote a column today which provided his two cents on the impending coaching search for IU. It was a decent piece, but there were a couple of names included that I don't want anywhere near the program: 1) John Calipari: do we really want Worldwide Wes hanging around IU? 2) Kevin Stallings: He's a nice guy I'm sure, but his Purdue background and personality (or lack thereof) don't thrill me. Surely we can do better than Stallings. The sizzle just isn't there, but maybe I'm missing something.
— Our old friend Coach Knight has joined forces with ESPN for "championship week" and the NCAA Tournament. As you would expect, Knight appeared on "Mike and Mike" this morning and side stepped all questions about Indiana and the Kelvin Sampson situation. It'll be interesting to see how well Knight does in this new role. He's always had disdain for the media so it's somewhat ironic to see him as a member of it.
Filed to: Bob Knight, Bob Kravitz, Brian Butch, Wisconsin Badgers