Hoosiers hang on at home against Ohio State, 72-69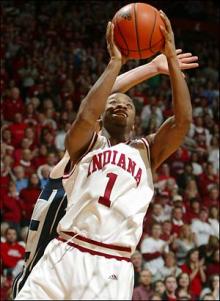 It certainly wasn't the most aesthetically pleasing 40 minutes of basketball, but the Hoosiers held off a surging Ohio State in the second half and won in Dan Dakich's home debut, 72-69.
Though Indiana had a poor shooting first half from three-point land — they finished a woeful 5-of-25 for the game — it lead by as much as 13 thanks to defense that limited Ohio State in the early going and Armon Bassett who tallied 13 points by the break. He finished with a game high 23.
But in the second half, IU got sloppy — I'm looking at you Eric Gordon — and freshman Evan Turner and Kosta Koufos took over for the Bucks. Koufos more than held his own against D.J. White — even tallying a few blocks and showing off his three-point range. He finished with 21 points and six boards. Turner has 13 points on the night.
Steve Lavin and Brett Musberger talked all night about the NBA scouts in attendance at Assembly Hall and you wonder if that affected Gordon at all. It's clear at this point his ball handling needs work. It's getting increasingly frustrating watching EJ drive to the rim, only to have it flutter away or an opponent draw a charge. He has seven turnovers in IU's win. EJ shot 25 percent from the floor and finished with 17 points. Without his ability to draw fouls, Gordon might be finding himself with a much lower scoring average on the year.
With the win, IU stays in the hunt for at least a share of the Big Ten title. The Hoosiers are 24-4 on the year and 13-2 in the Big Ten. They return to action Sunday afternoon at Michigan State to take on the Spartans.
Related:
Filed to: Armon Bassett, D.J. White, Dan Dakich, Eric Gordon, Evan Turner, Kosta Koufos, Ohio State Buckeyes