The Morning After: Wisconsin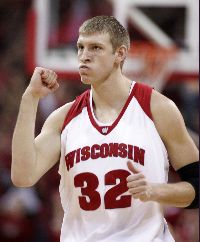 By far the saddest part about everything that happened yesterday is that a fine performance by the Hoosiers — a well-executed gameplan against a good team — went totally by the wayside. It was overshadowed. Overshadowed not only because Brian Butch hit a lucky (yes, it was lucky) banked three-pointer from about 24 feet to win the game, but overshadowed by the giant inky-black specter of the NCAA's announcement about major violations yesterday.
Sunday, the Hoosiers (to my mind, at least), took a significant step forward to alleviating a lot of the obvious concerns about them as a whole. Last night, they continued that pattern, albeit in a flawed loss. That progress — think how bad they looked the first game against Wisconsin — should be the story. But as I sit and write this, attempting to write about what's happening on the floor reeks of blind fandom. It feels like ignoring the giant elephant in the room. Be positive! Think good thoughts! Talk about basketball! Easier said than done.
And that's the problem. It's not the sanctions themselves — we're all adults here, and we can get over it. Kelvin Sampson getting fired? C'est la vie. Life goes on. Another lost scholarship? Sucks, but it's not devastating. Kent Benson getting all worked into a froth again? Not exactly newsworthy.
No, the problem is that because of Kelvin Sampson's utter stupidity, enjoying the game for what it is in its rawest, purest form — a group of almost-student-athletes competing with their school's name on their shirts — is now impossible. Watching this team develop into a tournament contender is ruined. Our expression of basketball fandom is tainted. To paraphrase Christopher Hitchens, sanctions poison everything. That's not fair to D.J. White and Eric Gordon and Armon Bassett and the rest, and it's not fair to us.
So thanks, Kelvin. Thanks a lot. Idiot.

— Despite all that, it's at least worth discussing the game in some detail. And if any lesson was learned from last night, it's that everyone — even D.J. White — cools off sometime. After the tear D.J.'s been on in the last, oh, 15 games or so, I was actually getting used to him playing at an outsized, ridiculous level. 15-footers were guarantees; giant one-arm rebounds were the norm; ferocious put-back dunks have become an expected treat.
But in the second half, that waned. D.J. was still rebounding, still providing the rock in the middle of the defense, but he was missing the sort of easy turnaround jumpers that have become surefire scores. It was an ebb and flow thing; as D.J.'s misses got worse, IU's guards picked up the slack. Still, the first-half performance was anchored by D.J., and in the second half, IU wasn't the same.
— On Brian Butch: I should hate Butch for hitting that 24-foot bank shot. I should hate him for being a big lurchy white guy. I should hate him for being nicknamed "The Polar Bear." Butch's shot was the kind of thing that gets you laughed at on a pickup court; you'd never celebrate a bank to win a game like he did last night.
Then I remember Eric Gordon's banked three at Illinois. Gordon's shot was probably no less lucky than Butch's; Butch is a decent outside shooter, after all, and you can bet Gordon wasn't trying to hit the glass any more than Butch was. It happened in inverse order this week, but a lucky bank shot was crucial. It was pretty hard to be angry about it after that. (Plus, we still beat Illinois and their Screech Powers of a head coach, and isn't that all that really matters?)
— It was easy to see a team confidence last night, especially in getting looks at the rim. Maybe that stemmed from playing Ohio State's soft zone, which practically begged to be penetrated. ("Begged to be penetrated" is today's "palpable mass on the buttox." So you know.) Whatever it was, Eric Gordon and company were less hesitant about getting into the lane last night than they've been all season. The Hoosiers are a good perimeter shooting team, but it's nice to be reminded that's not all they are.
— I'm sure some will question, or already are questioning, why Sampson deigned not to call a timeout after Butch's shot. I, personally, didn't mind the call. I would have preferred Jamarcus Ellis not to have been the guy taking the final shot, but he got a good look against a Wisconsin team still kinda-sorta celebrating Butch's lucky bank.
— DeAndre Thomas is an incredibly flawed player, but he did show flashes last night. It's clear that he has touch on the offensive end. He can score it in advantageous positions. Now, if he could figure things out defensively and stop bear-hugging people 94 feet from the basket, IU could get a lot more out of his big body on the interior. That'd be nice.
— See? Basketball talk. Fun, right? There'll be plenty more about Sampson later today — including a wild prediction from the blogosphere — but for now, your additions to the fun in the comments below.
Filed to: Brian Butch, Christopher Hitchens, D.J. White, DeAndre Thomas, Eric Gordon, Jamarcus Ellis, Kelvin Sampson, Kent Benson