Gasaway on Sampson: What a shame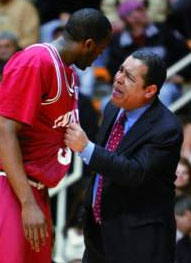 Despite a respectful tussle with John Gasaway (aka Big Ten Wonk) in the offseason, all three of us love his work, both in his old format at the Wonk and at his new location, Basketball Prospectus. He and Ken Pomeroy and the rest of the crew over there are on the leading edge of basketball analysis, and are the perfect complement to any fan's understanding of the game. If you're not reading, you should be. Pronto.
Today's no different. Gasaway sums up the feelings of IU fans (including myself) incisively in a banger of a post on the Hoosiers. To wit:
What a shame that this is what we're talking about in mid-February 2008 under the heading of "Indiana basketball." What a shame that we're not talking about the current Indiana team, which features the best two players to wear the crimson and cream in more than a decade. Both D.J. White and Eric Gordon are having outstanding seasons. Both are great stories. White arrived in Bloomington as a skinny work in progress and has transcended both injuries and three careers' worth of coaching turmoil to become far and away the best player in the Big Ten, an insatiable beast on the defensive glass and a lethal scoring threat in the low post. Gordon is the answer to an Indiana fan's wildest and most improbable dream: an Indianapolis kid who carries himself like a true Hoosier (steady, unassuming, fine with his name not being on the jersey), yet is blessed with a level of talent not seen in Bloomington since the days of Isiah Thomas. Today they're both afterthoughts. What a shame.
If that doesn't describe just how you've felt the past 24 hours — especially as you tuned in last night and realized the game felt suddenly empty — then you're not an IU fan. Sigh. This blows.
Filed to: Basketball Prospectus, John Gasaway, Kelvin Sampson