What happened to A.J. Ratliff?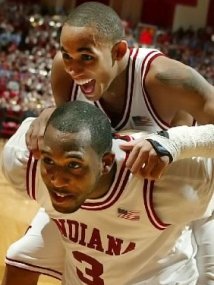 Almost two months ago, I wrote about A.J. Ratliff's return and what it would mean for the Hoosiers rotation. Here's a brief excerpt from that post to refresh your memory:
The Hoosiers don't need Ratliff for his offense. They need his senior leadership and his tenacity on defense. Two seasons ago, he held Adam Morrison to 5 of 17 shooting in IU's second round NCAA Tournament loss to Gonzaga.

Ratliff's addition will allow Eric Gordon to share the defensive duties on the opposition's best player. While Kelvin Sampson doesn't expect Ratliff to start, he has said that Ratliff has been playing extremely well in practice and should fit right into the rotation.
Since that time, Ratliff regained his eligibility by earning a 3.0+ grade point average the first semester, injured his right ankle in practice and battled a 101-degree temperature that limited his minutes in the Minnesota game.
His contributions on the court have been, for the most part, non-existent. During Saturday's 68-63 loss to Connecticut, Ratliff played five minutes and his body language suggested that something just wasn't right. In total, he's averaging 11.3 minutes and 1.7 points per game.
So that begs the question: What happened to A.J. Ratliff?
Sampson really hasn't been pressed by the media about Ratliff and where he fits on this team and I'm not sure why. A season ago, Ratliff was one of the most productive players on the team. Under a more disciplined coaching staff, Ratliff was in the best shape of his career and finally seemed to find his confidence. He led IU to their biggest win of the season, a 71-66 upset of then No. 2 Wisconsin.
And now, he's lucky to stay in the game for more than two minutes at a time. I've brainstormed some possible ideas for the substantial dropoff in playing time for Ratliff:
— Sampson is down on Ratliff: Perhaps A.J. missing the first semester was a bigger deal that we initially were led to believe. Kelvin said he was playing well in practice and that he expected A.J. to be a solid contributor. Was that really the case? Obviously not. No one knows what goes on in practice besides the players, but Sampson doesn't see Ratliff as a player that can help this team right now. If he did, he would be playing more often. It's as simple as that.
— The other options are better than A.J.: It was a foregone conclusion that Eric Gordon would eat up a majority of the minutes at the shooting guard position and that Armon Bassett and Jamarcus Ellis would get their fair share of run. Ratliff's primary competition for playing time: Jordan Crawford or as many of you like to call him, the undisciplined one. Crawford's versatility gives him the nod over Ratliff because he can score in more ways and he can also handle the ball more effectively (some of you might argue this point). Until Ratliff can get into a game, make a few shots and get on a roll, he'll likely remain the fifth option in the backcourt behind the aforementioned parties.
— Has Ratliff has packed it in?: A few of you suggested that Ratliff's body language on Saturday looked to be, and I'm quoting you, not me: "cancerous." While I'm not going to go that far, I will say that I did notice a visibly frustrated Ratliff when he was yanked after not really getting a chance to prove himself. And I don't blame him. I was frustrated too. While chatting with PostmanE during the game, I commented that I was baffled at how quickly Ratliff was taken out. But is there more to this story? Is this body language a carry-over from how Ratliff is practicing and carrying himself around his teammates? Again, it's hard to say and at this point, the evidence is inconclusive. If we see this behavior again, there could be something to this.
Now that I've throw my theories out there, it's time for you to weigh-in. What's the deal with A.J.? Are his days as a productive player in an IU uniform over? Can he still turn his season around? Your views are appreciated in the comments.
Filed to: A.J. Ratliff