Ratliff's return will provide defensive boost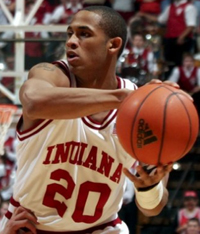 About a month ago, I penned a post wondering where A.J. Ratliff would fit in the Indiana rotation. Since that time, we've watched the guards on this team struggle with their perimeter defense. At times I would characterize our perimeter defense as terrible (see the first half of the Chattanooga game). At best, judging it as an entire body of work, it's been average.
Enter A.J. Ratliff. While he's primarily a streaky shooter on the offensive side of the ball, he's probably the best perimeter defender that Indiana has on its roster. And he'll return (assuming his grades come in as expected) this Saturday against Western Carolina.
We've already seen enough of offense from this team to know they'll be able to put up the points to win games. The Hoosiers don't need Ratliff for his offense. They need his senior leadership and his tenacity on defense. Two seasons ago, he held Adam Morrison to 5 of 17 shooting in IU's second round NCAA Tournament loss to Gonzaga. Ratliff's addition will allow Eric Gordon to share the defensive duties on the opposition's best player.
While Kelvin Sampson doesn't expect Ratliff to start, he has said that Ratliff has been playing extremely well in practice and should fit right into the rotation.
So, what are your thoughts on Ratliff's return? How much playing time will he get? Do you agree that he's Indiana's best perimeter defender? Is he the missing piece that can mold Indiana into a championship caliber team?
Filed to: A.J. Ratliff