Where will Ratliff fit in Hoosier rotation?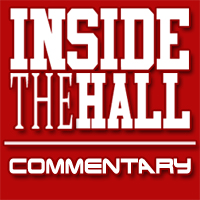 One of the more disappointing pieces of news this offseason was the announcement that A.J. Ratliff would be academically ineligible the first semester. I've always liked Ratliff's talent, but he's never really put it all together for a full season in a Hoosier uniform.
As a sophomore, his signature performance was a 21-point effort during IU's 79-53 rout of Kentucky in the RCA Dome. Last year, he dropped 20 on No. 2 Wisconsin to lead IU past the Badgers, 71-66. I was optimistic heading into the offseason that this was the year Ratliff would experience a breakthrough.
As we sit here today, I'm not so sure that breakthrough can become a reality for Ratliff. If he regains eligibility for the second semester, he'll be hard pressed to score significant playing time. Armon Bassett, Jamarcus Ellis, Eric Gordon and Jordan Crawford will be fully entrenched in IU's rotation and Ratliff will have to prove he deserves to take minutes from one of those guys. The past couple of seasons, losing a player with Ratliff's talent level would have been a huge blow. But this year, will the team even skip a beat without A.J.?
Color me pessimistic, but I don't see the potential for a drop in minutes for Bassett, Gordon or Ellis. And if Crawford continues to assert himself at his current pace, he'll be the first man off the bench. He seems to be more valuable than Ratliff thus far because he can create off the dribble as well hit the outside shot. Ratliff hasn't shown the consistent ability to hit the midrange shot, take the ball to the basket or create off the dribble.
So, where does Ratliff fit in upon his return? Will he see significant minutes? Or is he an afterthought for this team? If the latter is true, it's hard to feel any sympathy for someone who didn't take care of his work in the classroom. I'm interested in hearing your thoughts.
(You know I couldn't leave this out. The "Billy Clyde Era", as Big Blue Nation likes to call it, is off to a great start down in Lexington. And by great start I mean getting blown out at home against Gardner Webb, a team that won nine games a year ago. The Bulldogs were picked to finish 8th in the Atlantic Sun Conference. Props to Grayson Flittner, an Indiana boy from Tri-Central HS who put up 22.)
Filed to: A.J. Ratliff, Gardner Webb, Kentucky Wildcats