The Morning After: Penn State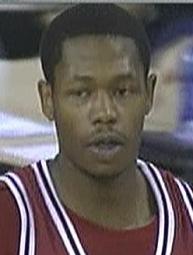 This probably shouldn't be called The Morning After, since it's coming in the afternoon; my apologies. A weekend visit from the brother and Dr. Martin Luther King Day pushed this back on the list of priorities, but here it is. Also, I'm planning a midseason report some time in the near future. Keep your head on a swivel for that. Onward:
— As much as I pride myself on taking in — and caring about — every game the Hoosiers play, it was hard not to feel apathy yesterday. After two tight, well-contested wins (a big road win at a revitalized Minnesota and a blood-feud victory over Illinois), it was pretty hard to ratchet up any emotion for Penn State. Minus Geary Claxton, the Nittany Lions are on paper arguably the worst team in the Big Ten, which is saying something.
But the Nittany Lions shattered that early yesterday. Not only did they push the Hoosiers to the limit on defense, they were somehow consistently effective on offense, hitting threes and slicing to the hoop and exposing a truly light IU defensive effort.
If I may use a Simmonsian analogy, the game reminded me of an open gym performance between a team of high school buddies and a bunch of out-for-the-exercise scrubs. Playing with friends at the SRSC or the HPER, it was easy to get trapped into games playing against kids who looked like they'd never touched a basketball before. Within one or two possessions, you know you're going to kill this group of band geek-looking dudes; why try too hard? So you lay off on defense. You take goofy bad shots on offense. You try to flex ability rather than play to win, and before you know it the scrubs start making a few ugly chucks here and there and the score is tied at 10-10. What the hell just happened? Usually, the better team wakes up, says "Let's go" about a hundred times, and runs the idiots off the court. Sometimes the damage is already done and the scrubs win. Fortunately, the Hoosiers finished with the former yesterday.
Right around the ten minute mark, you could actually read Jamarcus Ellis' lips as he screamed "Let's go!" after a defensive stop. You could feel IU realizing the urgency of the moment. They proceeded to pick up the pace on defense, tighten things up on offense, and won going away. The way good teams do.
— With that said, don't discredit the Nittany Lions; they played extremely well. Talor Battle was especially impressive. Battle looks like the kind of player that will become a very good, efficient point guard; it's clear he can already shoot and handle the ball well. If he improves his gamesmanship and passing, he'll be a player I'd love to have at IU at point guard. And perhaps the Nittany Lions aren't the worst team in the Big Ten after all. Probably one of the bottom three, still, but maybe not the worst. That's got to be worth something, right?
— Penn State's zone was troublesome. Two players helped things immensely: D.J. White, who was still able to catch the ball in the post and score before the double team came; and Jamarcus Ellis, who is great on the baseline, and in the pivot, at quickly using angles to get the ball near the hoop. It feels like I sing Ellis' praises after every game, and maybe that's just thanks to my man-crush on him. But maybe it's also thanks to the fact that because he's such a versatile player, he seems to do something different to endear himself each game.
— One more thing about Ellis: Of any player I've seen at IU, or anywhere else, really, Ellis has the most old-school offensive game. If you look at old films of guys like Earl Monroe (that linked video is awesome, by the way), Ellis has the same high dribble, the same reliance on the spin move, the same soft finishes at the hoop — even, as he showed Sunday, the finger roll. I don't mean to compare them in skill level — Monroe was one of the all-time greats — but for pure aesthetic value, Ellis' game looks more like the smooth hoopers of the 70's and early 80's than any post-Jordan NBA style. Maybe Jamarcus was born in the wrong decade.
— As our team is in the Big Ten, we've always taken more than a passing interest in the Big Ten Network's bid to become a staple on cable companies in prime target areas. What's unfortunate is that while the BTN obviously has the trump card in this argument with cable companies, it's doing little to reward viewers who switched companies to have it. In other words, it's providing the games, the baseline expectation, and nothing more.
What are the things we expect from Big Ten Network? Programming, for one: If you're going to have a 24-hour channel, you'd best provide decent proramming for, say, at least eight of those hours. Beyond Big Ten's Greatest Games, can anyone make that claim? Does anyone go watch the BTN when their team isn't playing? Another expectation is analysis, both in-game and afterward. Thus far, with the possible exception of Gene Keady (blasphemy, I know), each talking head on BTN is just, well, boring. My roommate and brother and I joked yesterday during the game about how we didn't know who either play-by-play man doing the game was; we just assumed it was two boring white dudes like it always is. That seems to be the BTN's strategy: Find the most boring, milquetoast white guys, and let them talk about the game. People will still watch!
Yes, yes we will. But we won't be happy with the network's strongarm tactics and inaccessibility in the meantime. You want to be a must-have network; you need to do more than provide games to get that done.
— Comments and additions welcomed, as always. The motto at this point, as cliche as it might be: A win's a win. In the past few years, 16-1 would be a dream start. Might as well enjoy it while it lasts.
Filed to: Big Ten Network, Earl Monroe, Jamarcus Ellis, Talor Battle