Sloppy Hoosiers grit out win in The Barn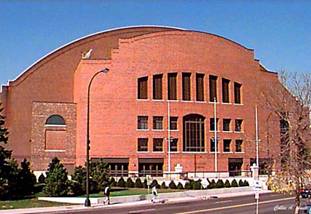 Talk about a frustrating, sloppy night for the Hoosiers. EJ picked up three fouls in the first half, (the first ticky-tac; the second a charge; the third was a bit suspect, but there was no reason for him to be playing defense so close 35 feet from the basket) and pass after pass after pass seemed near destined to be intercepted by the Golden Gophers. (A good amount were.)
When halftime rolled around, the Hoosiers had racked up 14 turnovers. Ugh. But hey, they were still up eight points — 40-32 — largely due to Jordan Crawford (aka "The Undisciplined One") going 5-9 from the field for 14 points, including four threes. He's pretty good when he just stands there and shoots, eh?
The second half was more of the same, as the Hoosiers played risk and reward with Minnesota's full-court press. D.J. White — who is playing like an absolute beast, by the way — got some easy looks when IU broke the press, but there was a number of times IU turned the ball over out of it as well. For the game, the Hoosiers had 26 turnovers. Not good.
But we all saw this game and we know the overriding thesis here: despite the slop, Eric Gordon having an off-game (he finished with 12 points and seven turnovers) and the tough environment: the Hoosiers got the W. Lance Stemler hit the go-ahead three with about 1:30 to go to put IU up 61-60. Gordon hit two free throws after a reach-in foul which extended the lead 63-60. Minnesota's Lawrence McKenzie missed a three to tie the game and that was pretty much that: IU wins 65-60.
Through all the frustration these last two games against Illinois and Minnesota — and there's been some frustrating moments — we won. And hey, I'll take it. IU is now 4-0 in the Big Ten. The Hoosiers are 15-1 overall and it's our best start since '96-'97. Revel in it, Hoosier fans.
Related:
Filed to: Eric Gordon, Jordan Crawford, Lance Stemler, Lawrence Mckenzie, Minnesota Golden Gophers