The Morning After: Illinois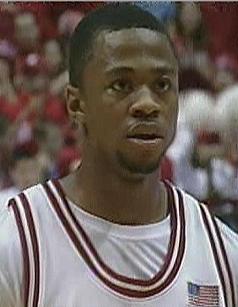 As R's headline yesterday said — phew. I was hoping for a rout, though I won't say I expected it; Illinois under Bruce Weber is, if good at anything, good at keeping games close with stifling defense. They did that yesterday and kept the Hoosiers — and Eric Gordon — in for much of the game. Who else was nervous? My palms were as schweaty as they get.
Anyway, the round up of observations about the Hoosiers, the Illini, and everyone's favorite rival coach, is below:
— Billy Packer was all over this during the game, and loathe as I am to agree with Billy Packer about anything, he was right: Armon Bassett was a huge difference maker in this game. His influence was positive on both ends of the floor. Defensively, Bassett applied great pressure to Illinois' guards, forcing them to start their offense 30 feet from the hoop and making high rotations easier on the defense as a whole. That kept Illinois from getting as many open looks, and in general created a sense of frustration and difficulty that they didn't seem to be feeling in the first half.
Offensively, Bassett was not only on-point from the arc, but he directed the Hoosiers in that strangely efficient way he developed last season. He's not the most athletic guard, and his size is a disadvantage, but Bassett appears to have genuinely improved his court vision. The Hoosiers were a different team with him on the floor Sunday. It's good to have him back.
This also raises a point about Jordan Crawford. Right now, Crawford is very similar to last year's Bassett: He's an offensively talented player who can't play a lick of defense, and whose offensive talent compensates for his bad decisions with the basketball. (He's more athletic than Bassett, but that's not what I'm getting at here.) I love Crawford's potential, but in slow, hard-fought games each possession marginally becomes more valuable, and Jordan's bad decisions become marginally more damaging. Thanks to Armon's return, Crawford's negatives were even more glaring Sunday. Again: Love his talent; uneasy about his mistakes.
— I know we get into hyperbole about Bruce Weber around here, so let me clear my palette: I think Weber is a great defensive coach who has had some problems recruiting, and that with a little offensive talent (or a lot, i.e. 2003), his teams can be really effective. After all, if your default mode on defense is anywhere from "stifling" to "nearly impenetrable," a little offense will go a long way.
Until Weber recruits that offensive talent, though, he'd do well to be far less petulant on the sideline. It's bad enough that he doesn't shake hands with opposing players after the game — does he do this with any other team? — but his constant demonstration of this face …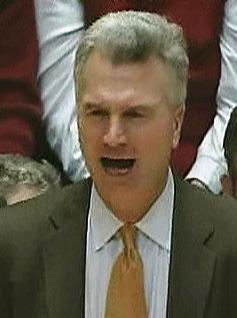 … makes it impossible to defend him. Really, is there a coach in the country whose histrionics undermine his coaching ability and apparent "nice guy" personality more than Bruce Weber? I can understand the man's frustration — in timeouts, he looked like he was literally pleading with his team to just hold on — but I can't imagine acting like a Grade A d-bag does one any good on the recruiting circuit. Nor can it help persuade referees. Someone needs to show Bruce a tape of himself and tell him to just … relax. Take a deep breath. Have a spa day. And stop acting like a moron.
Oh, and one more thing about the hand-shaking, without making too big a deal of this. Assuming Weber does do his little quick-shake-and-walk-away routine for every team, does that make it any better? Just shake people's hands. It's not a huge deal, but it's a class thing that most people would expect out of a Division 1 head coach. His assistants do it. His players do it. He should do it too.
— Like I said above, the Illini can play some defense. Weber's decision to use Calvin Brock on Eric Gordon was a good one; Brock is athletic and solid defensively, and he gave Gordon fits. So did Brian Randle during later possessions, when Illinois tried to leverage Randle's length on Gordon. Still, Gordon found ways around both defenders. He seemed to wear Brock down with his strength — Brock relaxing on a made Gordon three early in the second half comes to mind. And his quickness in the open court was sometimes too much for Randle too. But in the half court, the Illini held Gordon down, no small feat for any team.
— Speaking of defense (at the risk of sounding like a broken record) there is one obvious area the Hoosiers need to improve: defense. There are still too many inconsistencies in the man-to-man, too many poorly played screens and too many open looks for good shooters. (It helps that Illinois hit everything in sight the first few minutes, of course.) And the zone — which seemed like a good idea going in, given the Illini's troubles on offense — didn't last long before it resulted in a dunk and immediate discontinuation.
But the defense wasn't awful; the story was the offense. Considering that's basically where Illinois puts all their chips, and considering how poorly IU shot (their effective field goal percentage Sunday, 44.8 percent, was 11 points lower than their season average) this is still a good win, one I'll gladly take as a precursor to even bigger things in the Big Ten and a rematch with the Illini on Feb. 7.
— Oh, and before I forget, last night commenter Kelin wrote: "D.J. is 'MAN'". I think that pretty much sums that up.
As always, your well-considered comments, complaints, and ennui are welcomed below.
Filed to: Armon Bassett, Bruce Weber, D.J. White, Eric Gordon, Jordan Crawford