The Morning After: Tennessee State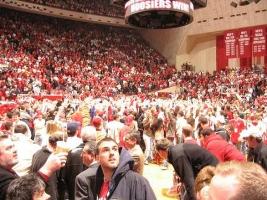 There's not a whole lot to say about this one. Tennesssee State, not unlike Chicago State last year, comprised a bunch of skittish guards and guys who put the small in small forward. (Zing!) Undersized and underskilled, they were never really a challenge to an IU team that didn't play particularly well, and didn't have to. So if there's anything to be learned from a game like this, it doesn't outweigh what we saw at Southern Illinois on Saturday. Instead, let's talk about Lance Stemler.
— Before getting into this, let me make myself clear: I've got nothing against Lance Stemler. He seems like a nice dude, he plays hard and with effort, and he is genuinely invested in the success of the team. All of these things are positive. That said, I am consistently baffled by the unfettered love he is shown by broadcasters and the occasional sportswriter. Last night, there was one particularly egregious example.
In the second half, after a couple of swung perimeter passes, Stemler overhanded a pass across the zone to an open Jamarcus Ellis. Ellis caught the ball, got around a closing defender, hop-stepped in the lane and made a double-clutched layup from the left side of the hoop. In all, it was an impressive move, the sort of drive Ellis is proficient at. Analyst Rich Zvosic — who either didn't see Ellis' play or was just totally nonplussed by it — said "GREAT extra pass by Stemler there." Huh? Stemler wasn't at all ready to shoot, and was probably too far behind the three-point line to get a good look anyway; he basically had to pass the ball, and would have failed the possession by doing anything else. And after Ellis finishes an effective, difficult scoring drive … we're going to credit Stemler?

I'm sure Ellis doesn't care who gets the credit; that's not the point here. The point is that, for reasons I don't quite understand, Stemler gets a ton of credit for very little actual production. The Stemler man-love would be harmless — again, I like Lance — if it didn't reflect a huge distortion of what we really know about Lance Stemler, which is that he is a thoroughly mediocre, inefficent player who hustles and plays hard. Seeing as everyone on this team plays hard, it might be time to raise our expectations of Lance a little bit.
(And yes, I know he made back-to-back threes last night. That's sort of beside the point. Plus, remember: Tennessee State. Let's not get carried away with that.)
— I'm not saying I predicted it, or anything like that, but I was getting worried about the potential for injury before Gordon left the game with a "bruised backside" last night. There were three or four plays prior to Gordon's injury in which he was hurtling out of control and falling down; D.J. White even did the same thing, ending up on the floor with Gordon one play. (That's not even mentioning Gordon's incredibly ambitious missed dunk early in the game; I don't think I've ever seen Gordon jump higher or extend more than on that play. Even though he missed the dunk, it was still sort of breathtaking.) I'm not arguing that Sampson should have removed Eric Gordon from the game to prevent an injury, or anything like that. It's just unfortunate that the Hoosiers' best player had to take what is surely a painful injury in a meaningless cupcake of a game. What are you gonna do? To paraphrase Frank Costello — No use cryin' over bruised backsides.
— Any praise of D.J. White needs to be tempered with the realization that Tennessee State, in both skill and physical size, had no way to stop him. It was like a high school senior playing a bunch of barely pubescent freshmen — of course the senior is going to look like he's playing at a different level. He is.
Still, D.J. played another solid game. Against taller, more physical defenders — the likes of which he'll see on Saturday against Kentucky — he'll have to work harder for his turnaround jumpers, but it looks like D.J.'s soft touch is really locked in right now. Good news.
— Other than the above, there's not much to take away from the game. I refuse to panic, or get irrationally happy but, as always, your additions are welcomed in the comments.
(Believe it or not, the above photo was not actually taken last night.)
Filed to: D.J. White, Eric Gordon, Jamarcus Ellis, Kelvin Sampson, Lance Stemler, Rich Zvosic