D.J. White sets career high in IU's 84-72 win against Tennessee State, Gordon hurt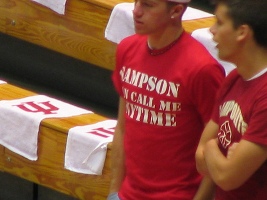 D.J. White came out with the hot hand Monday night in Bloomington, hitting the first eight shots he took on the evening — most on dunks and his patended turn-around baby jumper en route to IU's 84-72 win inside Assembly Hall. For the night, White finished with 29 points, setting a career high. He also snatched 13 rebounds on the evening. (This, I must admit, was quite encouraging to see.)
It looked like the Hoosiers were set to roll in this one, but after some sloppy defense and equally sloppy offense against a Tennessee State full court press (one that IU just couldn't figure out) in the second half, the Tigers battled back and cut the lead to as little as seven at 65-58 with about seven and a half minutes to go in the second half. IU finished with 23 turnovers on the night. A good lot of Tennessee's offense was aided by guard Bruce Price, who knifed through the IU defense all night for easy buckets and hit a few threes to boot. He finished with an impressive 34 on the night.
Perhaps of most importance to IU fans at the moment: the status of Boy Wonder Eric Gordon. Gordon looked somewhat erratic early in the night — at one point attempting a dunk from the right wing that came up short after he lost control of the ball — and at the 5:54 mark in the first half, a driving play took him off the court for the evening. Gordon finagled his way into the lane, went up and ran into two Tiger defenders. He then came down hard on his left backside. EJ tried to play through it for a bit after he was slow to get up, but Sampson took him out moments later and he was seen wincing on the bench for the remainder of the first half. Gordon never returned to the bench after the half and the BTN announcers described his injury as a "bruised backside." (Here's to hoping this is very minor and EJ is fine for the Kentucky game Saturday. Pretty please?)
No matter how atrocious it was, the victory gave IU its 22nd consecutive win at home. (20-0 under Sampson.) Don't forget to look for E's Morning After post in the um, morning. It promises to be far less boring and much more analytical than this.
Related:
Photo via McCloud on Flickr.
Filed to: Bruce Price, D.J. White, Eric Gordon