Gordon does it all in 70-57 win over Illinois State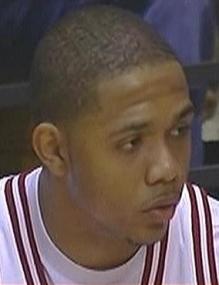 Eric Gordon scored 31 points and held Osiris Eldridge to seven points to lead No. 8 Indiana past Illinois State 70-57 Friday night in the Chicago Invitational Challenge at the Sears Centre in Hoffman Estates, Illinois.
Gordon shot 11 of 18 from the field and 7 of 10 from the foul line. He had 20 points in the first half.
More importantly, he held Eldridge to 14 points below his season average. Eldridge shot just 3 of 11 from the field.
"The game was close. It was good to grind it out," Gordon said. "It was a real physical game throughout, especially towards the end. This was the most physical game by far that we've had."
As Gordon alluded to, the game was much closer than the final score indicated. The Redbirds (3-1) cut the Indiana lead to two at 50-48 with 10:27 remaining on a layup by Anthony Slack. Slack was fouled on the play but missed a free throw that would have cut the lead to one.
Illinois St. never got any closer and the Hoosiers (4-0) closed the game on a 20-9 run.
"For the most part I thought we defended them well," coach Kelvin Sampson said. "Obviously there were some parts of the game tonight that weren't very pretty but I don't care about that. At the end of the day, we're 4-0 and that's what our goal was."
Jordan Crawford came off the bench and was the only other Hoosier in double figures with 13 points. D.J. White struggled to find his groove and finished with just four points on 2 of 7 shooting.
Armon Bassett left the game with just over a minute left in the first half with an apparent foot injury and did not return.
Levi Dyer led Illinois State with 18 points. Slack finished with 13.
Indiana will conclude play in the Chicago Invitational Challenge Saturday evening at 8:30 against Xavier.
Filed to: D.J. White, Eric Gordon, Illinois State Redbirds, Jordan Crawford