Chipped tooth doesn't stop Gordon in debut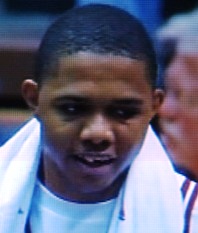 Not even a chipped front tooth could stop Eric Gordon from turning in an outstanding debut as the freshman scored 24 points to lead No. 9 Indiana to a 121-76 win over North Alabama Sunday afternoon at Assembly Hall.
Gordon was hit inadvertently by North Alabama guard Kenny Johnson with 17:25 left in the second half and was forced to leave the game. He returned at the 11:55 mark sporting a mouthpiece, but the injury seemed to have no effect on his play. Gordon was 10 of 16 from the floor in 32 minutes.
Jordan Crawford came off the bench to lead the Hoosiers in scoring, totaling 30 points in 22 minutes. Crawford was 10 of 11 from the field, including 6 of 6 from three-point range. Armon Bassett also turned in a stellar effort as he scored 18 points and had five assists.
A visibly thinner and more mobile D.J. White controlled the paint for IU. White totaled 13 points, 11 rebounds, six assists and three blocks in 26 minutes.
The Hoosiers shot 60 percent and outrebounded North Alabama 48-34. The Hoosiers also had 13 steals and 24 assists.
Jamarcus Ellis and Brandon McGee also hit double figures, scoring 10 and 12 points, respectively.
Casey Holt led North Alabama with 19 points and Isaac Gay added 17. The Lions shot just 37 percent.
The Hoosiers will be back in action on Saturday evening in another exhibition contest against UNC Pembroke. That game will also be televised by the Big Ten Network.
A complete boxscore is available here.
Filed to: D.J. White, Eric Gordon, Exhibition, Jordan Crawford