Media piling on Sampson in wake of sanctions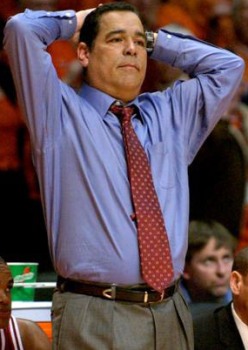 (Editor's Note: The Indianapolis Star has revealed secondary violations that have taken place in the last 15 months. You can read that report by clicking here.)
Updated, 10/16, 7:15 AM: Those of you hoping for a "this too shall pass" resolution to yesterday's news regarding Kelvin Sampson's latest sanctions for violating NCAA phone call rules are in for a rude awakening. It's not happening, folks. Fan message boards are being overloaded, radio talk show lines are lighting up and talking heads from across the country are calling for, gasp, Sampson's head.
A survey of prominent viewpoints from across the land revealed the following thoughts about Sampson:
Andy Katz, ESPN.com: Sampson has plenty of friends in the business. And when I say plenty, I would argue that the majority of coaches really do enjoy his company. But a number of them are perturbed by these latest violations. Some of his good friends even told me that they do think this will put a distinctive mark on the public perception of Sampson.
Will Leitch, Deadspin: The move is seen as a preemptive strike against any potential NCAA punishments. Indiana should be much better this year, thanks largely to recruit Eric Gordon (which Sampson swiped from Illinois, infuriating many of his fellow Big Ten coaches), but they've now officially wiped the regime of Bob Knight off the books. Say what you will about Knight, but this was never a problem with him. He was too busy strangling the players he already had.
Rick Bozich, Louisville Courier-Journal: Don't fire up your search engine. Sampson committed similar violations at Oklahoma, then promised it would never happen in Bloomington. Sunday's news suggests the man is either brash or careless. Doesn't matter which side you pick. He's still a repeat offender. IU uncovered the violations. IU reported them to the NCAA. IU is punishing the rule-breakers — Sampson and assistant Rob Senderoff. Sampson described the violations as "disappointing." Losing to Purdue is disappointing. This is disturbing. Reckless also fits. So does ridiculous.
Mike DeCourcy, The Sporting News: The NCAA punished Sampson by confining him to his bedroom — but then opened the window and offered to help him shimmy down the tree. The sanctions dared Sampson to find a way around them and still involve himself in recruiting players for IU. That is not what discipline is supposed to be about. From the very start, Sampson was allowed to continue text-messaging recruits. One player I spoke with in July 2006 said he texted frequently with Sampson and got the chance to build a relationship with the coach. The player wound up signing elsewhere, but it was clear the sanctions were not having the necessary punitive impact.
Mike Lopresti, USA Today: Obviously, the basketball coach at Indiana University is a phone-aholic. Please, somebody stop Kelvin Sampson before he dials again. Sampson has not gotten the message, which is odd for a guy who apparently checks his cellphone every 45 seconds. The problem is how he keeps letting his fingers do the walking into trouble. The rash of recruiting call no-nos that landed him in the soup in Oklahoma should have been enough to get his full attention. Now, this new cloud emerges at Indiana.
And now, two of the more extreme takes:
Kent Benson, former IU player: Here we get rid of a legend (Bob Knight) who had a perfectly clean record in 30 years of coaching at Indiana University. We put a zero tolerance rule on him and he was gone. For the athletic director and trustees to allow this to happen, it's an absolute travesty. It's an embarrassment to the former players and the university. They need to do the right thing. If no tolerance means no tolerance, they should get rid of him. And (athletic director Rick Greenspan) should be right behind him.
Bob Kravitz, Indianapolis Star: At this point, Indiana University doesn't just have the right to fire coach Kelvin Sampson for just cause. It has a moral imperative to close the book on his short and sordid stewardship of the school's once-storied basketball program. And once Sampson is gone, send athletic director Rick Greenspan on his way, as well. Maybe they can carpool. Sampson was Greenspan's signature hire after Mike Davis was sent packing, a signature hire who came here with an NCAA storm cloud hanging over his head and a dubious history with graduation rates. Now, IU and a local law firm have uncovered additional phone-related improprieties, some more major than others. And while the school's grandstanding decision to self-report might assuage its institutional guilt, it will not alter the emerging view of IU as a sleazy operator.
Personally, I think calling for Sampson to be fired is a bit over the top, but that's just me. Our current poll shows that some of you are ready to fire him and for those of you who voted that way, I'm interested in hearing your justification and rationale. I'm certainly not excusing his actions, but my detailed study of these violations doesn't conclude that firing him is the solution. Instead, I'm going to give AD Rick Greenspan the benefit of the doubt and let this all play out. The punishment should fit the crime and I feel like it does. The unfortunate reality is that this news has already put a stain on a once promising season. Let's hope that once the ball starts bouncing early next month, the focus shifts back onto the court.
Filed to: Andy Katz, Bob Kravitz, Deadspin, Kelvin Sampson, Kent Benson, Mainstream Media, Mike DeCourcy, Mike Lopresti, Rick Bozich, Will Leitch