And so it begins: Five burning questions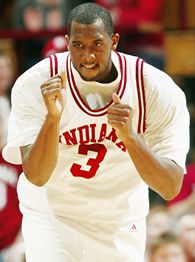 1: The White factor: Will D.J. play well enough to be a lottery pick?
Whether or not D.J. plays well enough to be a lottery pick is slightly different than wondering whether or not D.J. will simply play well. Playing himself into a lottery position would probably mean flashing a little transition game, a jumper with increased range, and an ability to dribble outside the post every once in a while. D.J. won't be able to rely on athleticism in the post in the pros, and those improvements have to be made if he wants to be a high NBA draft pick.
That said, with the sudden rush of hype that is Eric Gordon, it's easy to forget that White was also a lauded high school player and a McDonald's All-American in his own right. (If you don't believe me, go rent Through the Fire. D.J. totally makes a sweet cameo in his McDonald's jersey.) White proved to everyone he could stay healthy last year; now he has to prove whether he is the top-flight college player — and the possible pro — his potential suggests. — PostmanE
2. Hoosier hype: Will Eric Gordon live up to all of the accolades?
Indiana Mr. Basketball? Check. McDonald's All-American? Check. Sporting News first team preseason All-American? Check.
The pressure and expectations on Gordon are unprecedented for a freshman. He's the most heralded recruit to land in Bloomington since Isiah Thomas arrived from Chicago in the fall of 1979. His recruitment became a national headline when he took back his commitment from Illinois and opted to stay in state and attend Indiana. And through it all, Gordon has remained on an even keel. He's a quiet, humble kid in a sport that is full of over hyped prima donnas.
On the court, he's a nightmare for defenders. Guard him too closely and he'll blow by you with a deadly first step. Give him an opening and he'll bury his jump shot with unlimited range. Not only do I expect him to live up to all of the expectations, I expect him to make it look easy. In simple terms, he's a bona fide superstar in the making. Enjoy him while you can, Hoosier fans. — Big A

3. An NCAA ruling: Will Eli Holman qualify?
This story will be water cooler talk for Hoosier fans until the NCAA announces a decision. All of the information floating around seems to indicate that the big lefty from Richmond will get the green light. Holman is already a success story in my eyes. A ruling by the NCAA will do nothing to change my opinion. This is a young man who has overcome a community and lifestyle that has brought plenty of others down. Crime is a way of life back home in Richmond. He's been through tough times and learned from his mistakes. As E said the other day, he's living the American dream. And that is more important than anything that takes place on a basketball court. — Big A

4. Home sweet home: Will the Hoosiers enjoy a second straight undefeated season at Assembly Hall?
Increasingly, as folks like Dick Vitale and programs like ESPN GameDay have made student sections every bit as important as each team's players, on campus groups have made an aggressive effort at marketing the importance of the student section not only as aesthetically important but as a competitive advantage.
While Assembly Hall currently lacks a cohesive student section — and as marketing folks continue to try to find a solution to that problem — the Hoosiers suffered no loss of home floor advantage. As you already know, Kelvin Sampson's first Hoosier team won all of its 15 home games. Credit students for overcoming their sporadic geography, but also credit alumni. Mike Davis' years, during which most fans had their first experience with IU hoops mediocrity, were enough to convince anyone that it was worth their effort to be as loud and menacing and involved as possible. In other words: stand up and cheer, people.
So, can the Hoosiers do it again? The schedule, believe it or not, looks friendlier at home this year and we all know that IU is supposed to be better. The marketing folks will have things even more organized, and The Hall's going to be rocking. It's not a guarantee, but success at home is likely, and necessary if IU wants to be considered elite once again. — PostmanE
5. Tournament troubles: Can the Hoosiers get past the NCAA second round for the first time since 2002?
If you think the Hoosiers have run into rough times the last five years come March, well, you're right. The results have not been pretty:
2003: 2nd round loss to Pittsburgh, 74-52
2004: Missed NCAA Tournament
2005: Missed NCAA Tournament
2006: 2nd round loss to Gonzaga, 90-80
2007: 2nd round loss to UCLA, 54-49
This year, optimism is running rampant and for good reason. Anything less than the Sweet 16 would be disappointing and some are expecting a run to San Antonio. While I'm not yet ready to call a Final Four run, it is definite possibility. The remarkable thing is how much steam the program has gained since Coach Sampson took over 18 months ago. Fan morale is through the roof and recruiting has exploded. This is a statement season for where the program currently stands and where the program is heading. — Big A
Filed to: D.J. White, Eli Holman, Eric Gordon, Kelvin Sampson, NCAA Tournament