Hoosier Hysteria guest list loaded with talent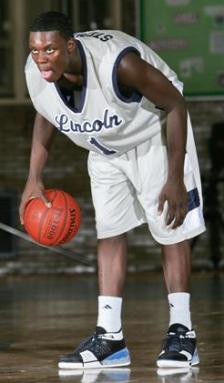 The group of recruits attending Hoosier Hysteria this weekend in Bloomington is arguably the most talented to ever attend the event. It's probably not a stretch to say that IU has the most talent of any school in the nation taking in the kickoff to the 2007-2008 hoops season.
Devin Ebanks, Derek Elston and Matt Roth, three players already committed to the Hoosiers, are slated to take in the festivities. Ebanks will be on his official visit while Elston and Roth will be on unofficial visits. Roth took his official visit alongside Tyler Zeller a couple of weeks ago. Zeller will be at Notre Dame this weekend and will finish his visits with a trip to Purdue next weekend.
Kevin Jones, from Mount Vernon (NY), will be on hand for his unofficial visit with his brother, Gerard. Jones is one of the final 2008 targets still on the board and is also considering Ohio State, West Virginia, UMass and Pittsburgh.
The 2009 class will also be well represented at Hoosier Hysteria. As I talked about a few weeks ago, Nolan Dennis, Lance Stephenson (pictured) and Dexter Strickland will all attend.
Lawrence North's Stephan Van Treese, who recently visited Louisville and is being recruited by several other high major programs, will make the drive down from Indianapolis.
If you include Elston, five of the top 100 players in the 2009 class will be at Assembly Hall.
Other notable guests include Ray McCallum Jr., Jordan Prosser and Jacob Jenkins. Prosser, a 2009 forward from Goodfield (IL), has an IU offer and played with Indiana Elite and will attend per Midstatehoops. Jenkins, also a member of the 2009 class, is from Manual high school in Louisville and does not have an offer from IU. He was in the Rivals top 100 for 2009 but dropped out of the rankings after the summer.
Also, I've received a few e-mails asking about TV coverage of Hoosier Hysteria. The Big Ten Network is planning to have live reports from around the Big Ten beginning at 9:30 PM on Friday. Indiana will be one of the schools featured along with Minnesota, Illinois, Michigan State and Wisconsin.
Filed to: Big Ten Network, Derek Elston, Devin Ebanks, Dexter Strickland, Hoosier Hysteria, Jacob Jenkins, Jordan Prosser, Kevin Jones, Lance Stephenson, Matt Roth, Nolan Dennis, Ray McCallum Jr, Stephan Van Treese