Trio of 2009 guards to attend Hoosier Hysteria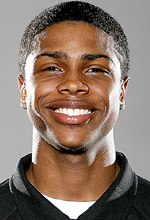 With the unfortunate news regarding Bud Mackey surfacing last Friday evening, the attention of the IU staff shifts to the class of 2009 to lock up another guard.
Let's face it, most of the 2008 talent has been spoken for and it's most likely far too late to get in on the available talent still left on the board.
We've already told you that Dexter Strickland (pictured) and Lance Stephenson will attend Hoosier Hysteria next Friday night at Assembly Hall. Various reports now indicate that Nolan Dennis, another highly touted 2009 guard, will also attend the festivities.
Just to give you an idea of how well Strickland, Stephenson and Dennis are thought of, consider these rankings by Scout and Rivals:
– Strickland: Scout (No. 1 PG); Rivals No. 16
– Stephenson: Scout (NO. 1 SF); Rivals No. 4
– Dennis: Scout (No. 6 SG); Rivals No. 21
Landing any one of these guys could help ease the pain of the Mackey news. Landing two of them would greatly diminish the pain. All three and you'll be saying, "Bud who?"
Also, for those of you who won't be attending Hoosier Hysteria, the Big Ten Network is planning to have reports from the event throughout the Big Ten Tonight basketball tip-off special.
Filed to: Dexter Strickland, Hoosier Hysteria, Lance Stephenson, Nolan Dennis