Hoosiers targeting 2009 standout Dexter Strickland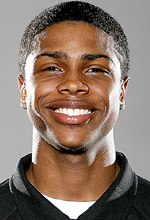 St. Patrick's High in New Jersey, under the leadership of coach Kevin Boyle, has produced quite a bit of talent over the years. Current NBA stars Al Harrington and Samuel Dalembert both immediately come to mind. This past season the school sent Corey Fisher, a consensus top 25 player, to Villanova.
However, the best talent yet to come from the school may be in the form of 2009 standout and IU target, Dexter Strickland. And even better for Hoosier fans, he'll get a chance to check out Bloomington when he attends Midnight Madness on October 12th.
Strickland has the eye of just about every high major program and currently holds offers from Michigan State, North Carolina, Ohio State, Rutgers, Villanova, Arizona, Florida and IU.
So what is it about Strickland's game that makes him so highly sought after? We went to the expert, Dave Telep of Scout.com, to get the lowdown on Strickland.
"He's one of the best guards in the class of 2009. He is extremely smooth and has improved year to year. This is one of the elite players in his class," Telep said. "He's at a high school that's going to showcase his talents all year long and he's going to be front and center on the national scene."
Telep also noted that several schools were on hand to watch Strickland work out yesterday as it was the first day of the fall open evaluation period. One of the coaches reportedly on hand was Indiana assistant Rob Senderoff.
Strickland's recruitment will certainly be one to watch over the next year as the Hoosiers try to lock up yet another five-star recruit.
Filed to: Dave Telep, Dexter Strickland