Good news on the horizon for Holman?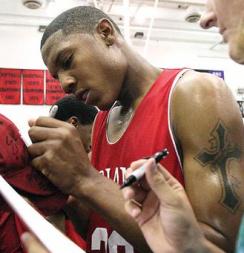 This e-mail we received from members of the West Contra Costa Unified School District school board seems to suggest that Eli Holman will qualify.
We are writing to you as members of the West Contra Costa Board of Education.

We are fully aware of Elijah Holman's situation regarding his eligibility to play and we want to provide you the details of what happened and what the situation is now.

Elijah has met all the requirements necessary to be eligible under NCAA guidelines. He has enough core credits and he has passed all necessary exams to graduate.

The administrators at Richmond High School (of "Coach Carter" fame) – failed to accurately complete the paperwork necessary for Elijah to be cleared. Matt Banker, from the NCAA Clearinghouse, is overseeing Elijah's case. Mr. Banker has requested paperwork which we either completed improperly or not at all. The remaining issue centers around an incomplete description of a core class which Elijah took in 9th grade.

We want to set the record straight so that Elijah is not tainted with the label of "failing student." He is a victim of sloppy administrators. We want to apologize to him and his supporters on behalf of the Board. We have directed the Superintendent to immediately resolve the situation.

Mr. Ramsey has been working with Ms. Marni Mooney in the Indiana University Basketball Office and Assistant Coach Ray McCallum.

Eli is OUR boy and we want to assure you that he will have good news.

Madeline Kronenberg and Charles Ramsey
West Contra Costa Unified School District
School Board Members
There is still no official word on Holman from IU or the NCAA and we're three days from Hoosier Hysteria. Let's hope this gets resolved sooner rather than later.
(Note: A few people have asked us to verify the authenticity of this letter and yes, we have verified that it was sent by the referenced school board members. We spoke to Charles Ramsey earlier this afternoon.)
Filed to: Eli Holman