The Hoosiers are awesome, baby!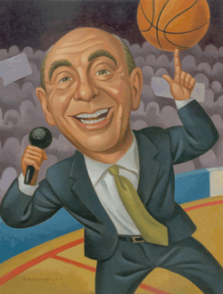 The preseason hoops polls are slowly starting to trickle out and today we got Dick Vitale's top 40 teams. Using his revolutionary "Vitale Bald Dome Index" formula, also known as the VBDI, Dickie V has the Hoosiers pegged as the No. 8 team in the land.
8. Indiana: Kelvin Sampson is thrilled to have diaper dandy Eric Gordon, and the newcomer will make a difference right out of the blocks. DJ White has to have a strong season.
Nothing groundbreaking here from Vitale on the Hoosiers, but some of his other predictions did catch my eye.
First, Michigan State is slotted at No. 7, which is a fair assesment of the team Tom Izzo will put on the floor in East Lansing this season. Ohio State was the only other Big Ten team mentioned, coming in at No. 23.
Two teams I thought Vitale overrated were Duke (surprise, surprise) and Kentucky. Duke is penciled in at No. 12 and I just don't see where the Blue Devils will be much better than last season. I know, I know, they return everyone of importance from last year's team with the exception of Josh McRoberts. But they weren't any good last year. Maybe they're counting the loss of McRoberts as addition by subtraction. As far as Kentucky goes, they'll be improved, but they're still very thin down low and their point guard play is very questionable. The last I checked, those are two important variables.
ESPN still hasn't addressed Vitale's obsolete website, which takes me back to the days of dial-up and Compuserve as an ISP. Maybe that's because this company is so proud of their creation.
Filed to: Dick Vitale, Duke Blue Devils, Josh McRoberts, Kentucky Wildcats, Michigan State Spartans, Ohio State Buckeyes