D.J. White is some sort of fancy car, I think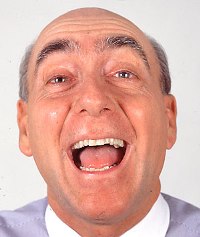 As we've said before, it's never too early to preview the college basketball season, especially not for someone as, well, enthusiastic as Dick Vitale. Which is why Vitale has already posted his All Rolls-Royce Team for 2007 (the equivalent, I assume, to an All-Star team), a list divided into five different squads, one of which includes our man in Pam Am, D.J. White:
THIRD TEAM

F: DJ White, Indiana: White will welcome Eric Gordon to Bloomington, which takes some pressure off of the big man up front.
So, there's that. Not really sure if this list excludes freshman, as they are simply Diaper Dandies, or if Diaper Dandies can also be Rolls-Royce's … it's all very confusing. Instead, let's thank Vitale for the mention, and plead with him to get the ESPN design monkeys to update his small neck of their internet conglomerate. 1994 called, and it wants its Times New Roman back. Slam!
Filed to: D.J. White, Dick Vitale, Fancy Cars