Eli Holman is ineligible … for now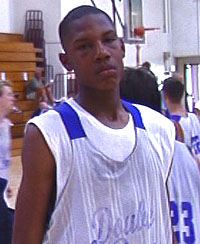 From the "well, we were hoping this wouldn't happen, but certainly aren't surprised that it did" file comes the news that for the here and now, new California recruit Eli Holman has not yet been cleared by the NCAA Clearinghouse. IU is flying to the Bahamas without him.
T. Hutch from the Indy Star has the details:
Indiana University freshman center Eli Holman has not been cleared yet by the NCAA Clearinghouse and will not go with the team today to the Bahamas.
The IU basketball team is scheduled to depart today for a four-game exhibition tour in the Bahamas.

IU said today that Holman is enrolled and attending classes, but could not participate in team activities until he has been fully processed through the NCAA Eligibility Center.

In early August, when IU's freshmen and junior college transfers participated in a summer barnstorming tour, Holman told The Star that he had been cleared to play.
It's no secret Holman struggled with grades and test scores before coming to IU, so again, this isn't a huge surprise. And as Chris Korman at the HT tells us today, this doesn't exactly mean he's ineligible, just that he hasn't been cleared yet. Perhaps even more than Eric Gordon, I'm really looking forward to seeing Holman play this year. (Shocking, I know.) He put up some insane numbers in high school and might be a perfect addition down low to help out D.J. He's my wild card, for sure.
We'll see how this one shakes down soon enough.
Filed to: Eli Holman, Eric Gordon