A closer look at the 2007-2008 schedule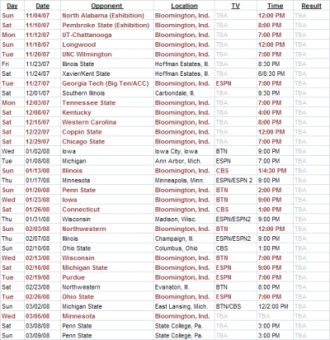 In examining the recently released IU hoops sked (click image to expand), a few words come to mind. Let's take a look:
Cupcakes: Yes, at first glance, the Big Ten schedule is pretty meaty in the middle of the year, but to get there IU gets — deep breath — UT-Chattanooga, Longwood, UNC Wilmington, Illinois State, Tennessee State, Western Carolina, Coppin State and Chicago State. That's, count 'em, eight near-guaranteed wins. Granted, they're peppered with Xavier/Kent State, Georgia Tech, Southern Illinois, and Kentucky … but both Georgia Tech and Kentucky are at IU, and even in Carbondale, Southern isn't the team they were last year. Before the Big Ten season even starts, IU should be at least 10-2. At least. The days of old — when IU would play top 25 team after top 25 team in the preseason — appear to be over.
Wildcats: This is the preseason game of the year. Since the ACC challenge has robbed us of our annual Duke-or-UNC matchup, Georgia Tech just doesn't feel very sexy. Will students be as loud when UK comes as they were when Redick was in the house? Will UK fans make an appearance?
Balance: Besides the Feb. 7-16 stretch wherein IU will face Illinois, Ohio State, Wisconsin, and Michigan State, the Big Ten schedule looks remarkably balanced. There isn't much of a road trip there, which will be good news to Sampson; if his team can win at home like he did last year, he'll be sitting pretty yet again.
25 wins: That's the goal every year for any top flight team, and there's no reason, given this schedule, that this IU team can't accomplish it. Even if IU loses every Big Ten road game (certainly possible), they should still have, say, 21-22 wins. This team has the schedule to make the NCAA tournament without a problem. What happens when they get there is the most pressing question surrounding the upcoming season, the one I'm hoping will have a chance to be answered.
Filed to: