Zeller sets visits, Sampson quotes from the Wolf Challenge, Kyle Kuric talks IU interest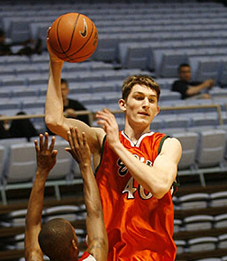 – Tyler Zeller has set the dates for his official visits this fall and IU will be the second school that the 6'11" five-star center from Washington has a look at. Here's a look at the schedule, according to Justin Young of Rivals.com (subscription required):
Zeller's first trip takes him to North Carolina on Sept. 15. The following weekend, he's off to Indiana. On Oct. 12, the five-star center will visit Notre Dame. His final visit comes on Oct. 19, when he'll visit Purdue.

With the schools all on an equal playing field going into the visits, Zeller says he is hoping to get that "this is the place" feeling during the trips.
I said before that it'd be pivotal for IU to get either the Midnight Madness visit or the final visit and they came up empty on both. After seeing this schedule, I'm a lot less optimistic about our chances to land Zeller, but stranger things have happened.
This will be interesting to follow over the next couple of months. I'm interested in hearing where you guys, the readers, think Zeller will end up.
– As you know, Kelvin Sampson participated in Fuzzy Zoeller's Wolf Challenge yesterday and he had a few quotes about the incoming recruiting class. Here's a few of the more notable quotations, courtesy of Rick Bozich of the Louisville Courier-Journal:
"We should be better across the board," Sampson said. "I love E.J. (Gordon), but Jordan Crawford (another freshman) is going to surprise people. He can really play. So can Brandon McGhee.

"All those kids can help us. We've got more guys who can help make us more of an attacking team. We should be able to get more baskets and get to the free-throw line more."
Besides the quotes, the article is a very solid commentary on Sampson's golf game and the return of Dan Dakich to IU.
– And finally, Hoosier Hills Hoops has a Q & A with Evansville Memorial senior-to-be Kyle Kuric that's worth a look. Kuric talks about his interest in IU towards the end of his talk with Matt Denison.
Filed to: HoosierHillsHoops.com, Kyle Kuric, Mainstream Media, Rick Bozich, Rivals.com, Tyler Zeller