IU makes final four for Tyler Zeller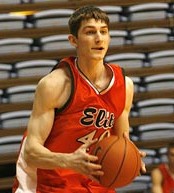 Tyler Zeller, the top senior-to-be in the state of Indiana from Washington High School in North Daviess, has a list of his top four schools, announced today on the Indiana Elite website.
As I told you a month ago, the momentum for the Hoosiers in Zeller's recruitment seemed to be gaining steam and the news today only reinforces that sentiment.
The four schools still in the running: IU, Purdue, North Carolina and Notre Dame.
Notably absent are Kentucky and Kansas who were initially thought to be serious contenders in the race for the big man.
There is no timetable for a decision as Zeller plans to take official visits to each school before making his choice later in the fall.
Filed to: Tyler Zeller