Barnstorming Tour wrapup from New Albany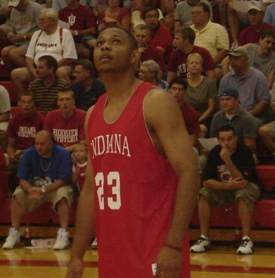 We're jammed pack with content for you over the next few days and a great time was had by all at the first stop of the Barnstorming Tour at New Albany High School. Among those we were able to interview tonight: Lance Stemler, Armon Bassett, Bud Mackey, Jordan Crawford and Jamarcus Ellis. So look for content regarding each of them over the next few days, starting tomorrow.
I was able to honor some of your requests for questions and I'll be sure to include the answers where applicable.
As far as my closing thoughts for the evening, I've got quite a few to share with you. First off, Eli Holman has qualified and will suit up for the Hoosiers next season. That's great news because the Richmond (CA) product will be a factor once the Big Ten season rolls around. His offensive game isn't spectacular, but he can finish and he'll help a great deal defensively because of how long he is.
DeAndre Thomas has dropped about 30 pounds since his arrival in Bloomington. He's doing quite a bit of cardio work to shed the pounds.
Eric Gordon was spectacular once again. He showed why he is the top incoming freshman in the land. He's also looking a bit stronger in the upper body since we last saw him in the Jordan Brand All-American game. For those of you who haven't seen him in person, it's a real treat and IU is fortunate to have a player of his caliber.
Jordan Crawford played well and since it was the first time I saw him, it's the first time I can pass real judgment on the Hargrave Academy product. He's got excellent court vision and gets up and down the floor very well. I expect he'll contribute immediately.
Jamarcus Ellis was my favorite interview of the night. The Juco Player of the Year can score, rebound and pass. He's definitely the slasher that IU needs. Most importantly, he's a good kid who came to IU for the right reasons.
Brandon McGee is a blue collar player that does a lot of different things well. He likes to go inside and mix it up and he can also handle the ball a bit on the perimeter if need be.
Bud Mackey seemed thrilled to be at the game and he enjoyed the love from the IU fans. The lefty from Scott County should be a top contender for Mr. Basketball in the state of Kentucky.
And last, but certainly not least, Ray McCallum Jr. impressed me with his exceptional quickness. He'll only be a sophomore at Bloomington North, but he's already a high major target.
I hope you enjoyed the live blog coverage and make sure to check back over the next few days. There will certainly be plenty to talk about.
Filed to: Armon Bassett, Barnstorming Tour, Brandon McGee, Bud Mackey, DeAndre Thomas, Eli Holman, Eric Gordon, Jamarcus Ellis, Jordan Crawford, Lance Stemler, Ray McCallum Jr