On Deck: Thursday's recruit game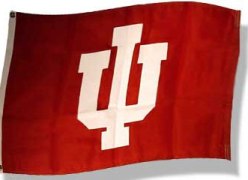 After a couple of phone calls and some investigation, I've got a pretty good grasp of the festivities that will be taking place Thursday night at 7 PM at New Albany High School. Tickets will be sold at the door beginning at 6PM for $7 each.
Playing for the IU recruit team will be Eric Gordon, Jamarcus Ellis, Eli Holman, DeAndre Thomas, Brandon McGee and Jordan Crawford. Joining them will be Bloomington North sophomore-to-be Ray McCallum Jr. and 2008 verbal Bud Mackey from Scott County (KY).
They'll square off with a team of locals from the Southern Indiana area. Of note for those in the New Albany area are current New Albany players Braydon Hobbs and Spencer Shannon. Logan Jones (committed to Valparaiso) from Madison will also participate.
It's an excellent opportunity to get a first hand look at what's on the horizon this upcoming season for Indiana Basketball so I encourage any of you in the area to come on out. For those who can't attend, we'll have a live blog, pictures, interviews (time permitting) and notes from the event.
Filed to: Barnstorming Tour, Brandon McGee, Bud Mackey, DeAndre Thomas, Eli Holman, Eric Gordon, Jamarcus Ellis, Jordan Crawford, Ray McCallum Jr