D.J. explodes for 22 as U.S. surprises Argentina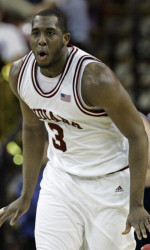 Although the U.S. will not medal in the Pan American Games, Indiana Basketball fans certainly have something to be excited about. That something would be the play of D.J. White.
With his team out of medal contention following disappointing loses to Uruguay and Panana, White led the the way with 22 points, seven rebounds and two blocked shots as the U.S. downed Argentina, 74-71 on Friday night.
Here's what the I.U. senior-to-be had to say about the performance:
I think we played more as a team. Coach [Wright] said earlier today to play inside-out with me and big Roy. I just got it going. My teammates did a good job of getting me the ball towards the end of the game as I got hot. So, I give all the credit to my point guards for looking at me down the stretch.
I think since we got knocked out of medal contention, we played with more of a sense of pride. I think this was our best effort so far – as far as playing together as a team, sharing the ball and playing together on defense. That's what made us win tonight.
While you can blame the two U.S losses on several things (poor guard play and lack of cohesiveness immediately come to mind), you can't dispute the fact that D.J. has been the best player on the roster. It looks like he's finally come full circle in his battle to become 100% percent and will be ready to lead the march towards San Antonio in 2008.
Filed to: D.J. White, Pan American Team, USA Basketball