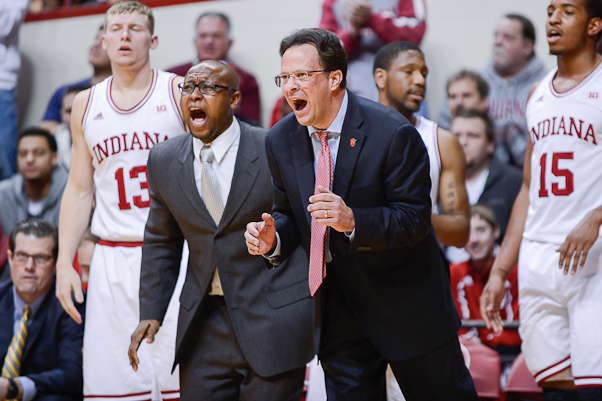 Just three days ago, Indiana got to play the game it wanted — a high-paced, high-scoring affair with a willing opponent. On Thursday night, the Hoosiers ran through No. 20 Iowa in the fastest-paced game of the Big Ten season (83 possessions per team) in a 93-86 win.
This afternoon in Assembly Hall, the Hoosiers won't get that luxury again.
This time, they are slated to play No. 22 Ohio State (22-7, 9-7), a team that boasts the No. 2 defense in the country and hopes to pressure the Hoosiers (16-12, 6-9) into their 13th loss of the season.
"They are tremendous, defensively," Indiana coach Tom Crean said. "They attack the dribble, they do a great job of getting into the elbows and they'll come off their man and they can cover a lot of ground. They're very, very experienced and they use that experience to create havoc."
Perhaps no single player represents the challenge facing the Hoosiers than Buckeyes senior point guard Aaron Craft, who comes into today's game with a 4.6 steal percentage — the 14th best individual rank in the country. Craft, who has forced 17 turnovers in six career games against the Hoosiers, has long been regarded as one of the nation's top defenders. Crean has long called him one of the NCAA's best players, too.
But Craft isn't alone in the Buckeyes' aggressive and experienced defense that ranks No. 1 in the Big Ten in efficiency (0.96 points per possession allowed) and opponents' turnover percentage (20.8). In fact, junior guard Shannon Scott steals the ball at a higher rate than Craft at 4.7 percent — good for ninth-best in the nation.
And though no other player on the Buckeyes has a steal percentage higher than 1.5 percent, the Hoosiers — who are the worst in the Big Ten at turning the ball over (22.0 percent) — believe the challenge extends far beyond just Scott and Craft.