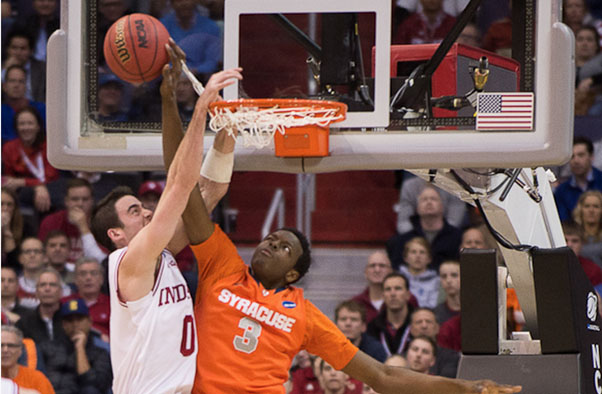 Whatever you call it, Indiana won't think of it as a rematch.
Less than nine months after Syracuse knocked Indiana out of the NCAA tournament in the Sweet 16 in Washington, D.C., the two teams will face each other tonight at the Carrier Dome at 7:15 p.m., as part of the Big Ten/ACC Challenge.
For Indiana senior Will Sheehey, he experienced the loss firsthand. He played 26 minutes that game, as the Hoosiers' national title hopes were dashed in their lowest scoring output of the season, a 61-50 defeat. But even he, on the eve of their matchup against the No. 4 team in the country, hesitated to call it a rematch.
"We're going to look at it just purely as a basketball game, not really at the emotions surrounding it," he said. "Obviously, reliving the end of your season last year is not what you want to do but we're going to dive into the film, and we have been, in looking at specific things within the game. Not necessarily the emotional part, but more like the X's and O's."
Yes, eight months removed from the decisive game, both teams are much different — each losing significant contributors to graduation or the NBA. Indiana lost four of its five starters. Syracuse lost three of its four leading scorers (Brandon Triche, James Southerland, Michael Carter-Williams).
"We can't focus on 'rematch,' " Indiana coach Tom Crean said. "We can focus on the things we learned from the game, but it's two different teams."
Still, much remains the same.