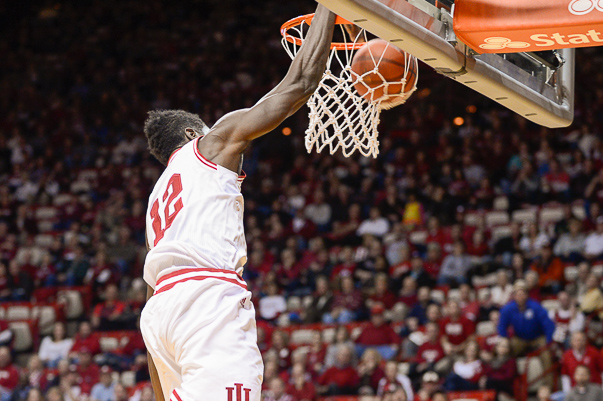 Thoughts on a 83-64 win over Texas Southern:
I. Robert Johnson came out of the gate hot. He headed to the locker room at halftime with a line that would have looked nice after a full 40: 17 points (5-of-6, 3-of-3 from distance), four assists and three rebounds. Johnson's ability to handle the ball, dribble-drive and score or find the open teammate in the corner for 3-pointers makes him incredibly valuable within Indiana's offense. When the competition stiffens Johnson may find it harder to drive into the paint, but he's making a strong case for a starting spot even when Troy Williams and Stanford Robinson come back from suspension Thursday against SMU.
At the very least, he's going to give Tom Crean an option off the bench without much dropoff from the starting backcourt.
II. Hanner Mosquera-Perea played arguably his best game as a Hoosier tonight against the Tigers. He scored a career-high (12 points) with some back-to-basket scores, a breakaway dunk, a jumper and a pick-and-roll bucket. Mosquera-Perea also notched a career-high five blocks, looking like a man against boys at times with a couple of the chasedown variety. He did have three turnovers and only five rebounds, but he looked confident on both ends of the court and continues to look like an improved and capable player despite the miscues.
III. The offensive numbers were again impressive: 1.19 points per possession, 66% eFG, 10-of-15 from 3-point range, four players in double-figures (Johnson: 21, Yogi Ferrell: 20, James Blackmon Jr: 19, Mosquera-Perea 12). But after heading to the locker room with a 15-point lead, the Hoosiers let an undermanned Texas Southern squad hang around for too long. The Tigers never got closer than 10 and there was never any real threat of them taking the lead. But over the final 20 minutes of the contest, Indiana only outscored the Tigers 39-35.