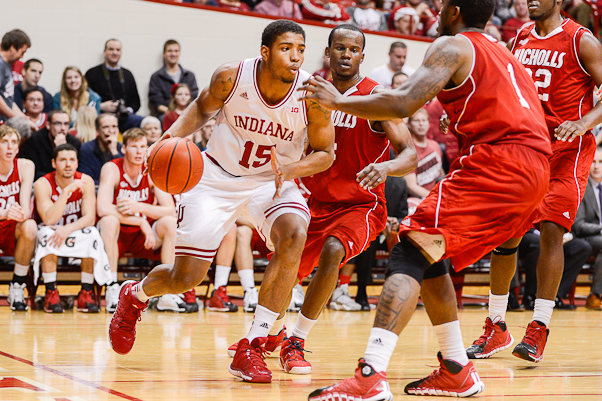 With the official start of practice a little more than a month away (Oct. 3), the 2014-2015 season is on the horizon. We'll have comprehensive player-by-player previews this fall, but here's an early look at some of the storylines to keep an eye on with this season's frontcourt: 
· Whom can Indiana count on up front? Even after a five-game tour of Canada earlier this month, this is the biggest question that surrounds this Indiana team. And it's one that we may not have a clear answer to until the Hoosiers get into the meat of the non-conference schedule in late November. The need for additional help in the post was significant enough in the eyes of the coaching staff that Indiana went out and added Emmitt Holt last week.
"We are excited to bring Emmitt to Indiana at such a late date," Tom Crean said in a release earlier this week. "We determined that we needed another quality player up front and we were able to uncover Emmitt's potential availability."
With Holt's addition, Indiana now has three or potentially four options to log minutes in the post with Hanner Mosquera-Perea, Devin Davis, Holt and Jeremiah April. Of those four, we've yet to see either Holt or April in an IU uniform because neither played in Canada. Davis looked stronger and more confident in the five exhibition games and Mosquera-Perea missed the trip due to visa issues.
The question that looms, however, is whether IU can find the right combination to hold its own in terms of defending the rim and rebounding on both ends. The Hoosiers should have one of the best backcourts in the Big Ten, but piecing together a serviceable frontcourt could ultimately decide just how far this group can go.