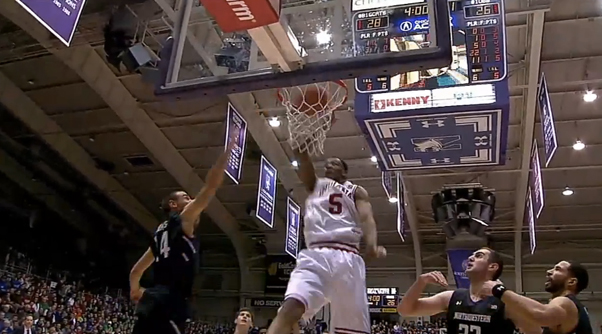 Thoughts on a 61-56 win over the Wildcats:
EVANSTON, Ill. –  After all the tumult over the last week-plus, just what Indiana team was going to show up inside Welsh-Ryan Arena tonight was anybody's guess.
As it turns out, the Good Hoosiers made an appearance for much of this one. And so they avoided the second half breakdown, one that has plagued them on the road in conference play, hanging on for an important victory on the road and perhaps even gaining some confidence for the home stretch in the process.
The Wildcats, after zoning Indiana up for much of their win in Bloomington, decided to go man on Indiana in the first half. The Hoosiers, with more space and seams, went to work on the drive and on the offensive boards (42.1 percent offensive rebounding percentage). More than half (18) of their 32 first half points came in the paint. 10 of their 32 points came on second-chance opportunities,  as Troy Williams (two) and Noah Vonleh (one) had tip-in slams. The offense scored 1.13 per possession.
But Indiana's defense wasn't exactly sound, as their option to go zone allowed Northwestern some looks from beyond the 3-point arc (4-of-10, 40 percent). Alex Olah, on two bum ankles, played well (5-of-8 for 12 first half points) and the Hoosiers entered half up only two points (32-30).
Indiana was able to extend the lead all the way up to 12 coming out of halftime on the back of a 12-2 run. Northwestern went cold, Drew Crawford missed a few shots at the rim, and Indiana kept going to work against Northwestern's man-to-man defense. But Chris Collins finally decided to go zone against the Hoosiers as the game seemed to be getting away from his Wildcats. During a stretch of five minutes and 45 seconds between a Will Sheehey lay-in at 14:28 and a 3-pointer from Yogi Ferrell at the 8:43 mark, the Hoosiers failed to score a field goal, though they got into the bonus during this timeframe and hit some free throws.