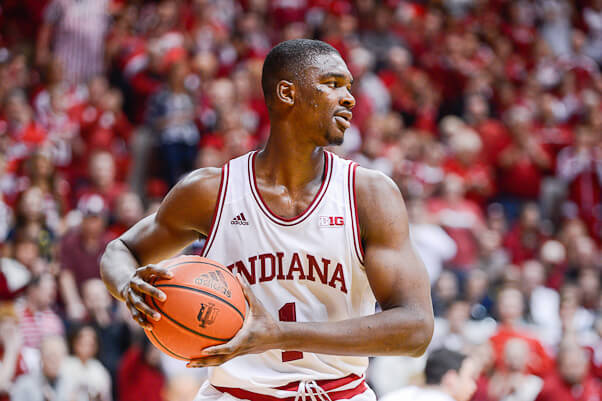 We're just a little more than 24 hours away from the 2014 NBA draft and also from learning where Indiana's Noah Vonleh will play at the next level.
Vonleh is already in New York for the draft, which takes place tomorrow at the Barclays Center in Brooklyn. In our final edition of draft watch, we'll take a look at the latest mock draft projections, where Vonleh thinks he may land and more:
Current projections (as of 6/25/14, 12:30 p.m. ET)
· ESPN's Chad Ford: No. 4 to Orlando
· ESPN's Jeff Goodman: No. 3 to Philadelphia 
· Yahoo! Sports Marc Spears: No. 5 to Utah
· Sports Illustrated's composite: No. 5 to Utah
· Draft Express: No. 5 to Utah
· NBADraft.net: No. 5 to Utah
The injury news regarding Joel Embiid has caused a shake up at the top of the draft, with both Ford and Goodman moving Vonleh into the top four picks.
The latest scenario laid out by Goodman has Vonleh moving up to No. 3 to Philadelphia and Ford has Embiid sliding all the way down to No. 6 with Dante Exum moving up to No. 3 and Vonleh at No. 4.
In an interview with Andy Katz of ESPN.com on Wednesday afternoon, Vonleh said he believes he'll be picked in the top four. Considering Vonleh only worked out for six teams that we know of — Philadelphia, Orlando, Utah, Boston, the Los Angeles Lakers and Sacramento — he appears to be a lock to be drafted in the No. 3 to No. 8 range.