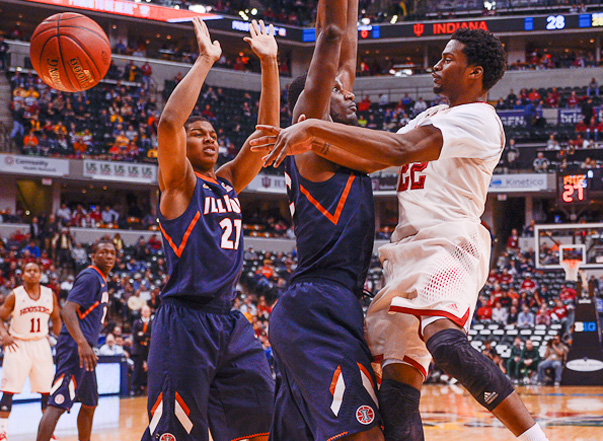 INDIANAPOLIS — There have been plenty of recurring issues for the Indiana Hoosiers in the 2013-2014 season. Scoring slumps, second-half collapses, the list goes on.
But on Thursday in their Big Ten tournament opener, another recurring issue reared its ugly head: turnovers.
In their 64-54 loss to Illinois, the Hoosiers turned the ball over 16 times — on 25.9 percent of their possessions. Through 32 games this season, the Hoosiers have turned the ball over on 21.8 percent of their possessions.
No Indiana squad has had a worse turnover percentage since the 2009-2010 team that finished 10-22. And after the Illinois loss, many of the Hoosiers weighed in on why it has remained an issue throughout this season.
"It was just awareness on the court," redshirt sophomore Austin Etherington said. "Some of the times the turnovers we had, we had the right intentions and we were making the right play, just sometimes you were over-dribbling or over-thinking a play.
"I wouldn't say it's something like skills-wise, that's the reason why we had turnovers — with a young team it's hard to really get used to everything. But I mean it is the end of the year and you don't consider them freshmen anymore. It's something that you just have to be more aware of on the court."