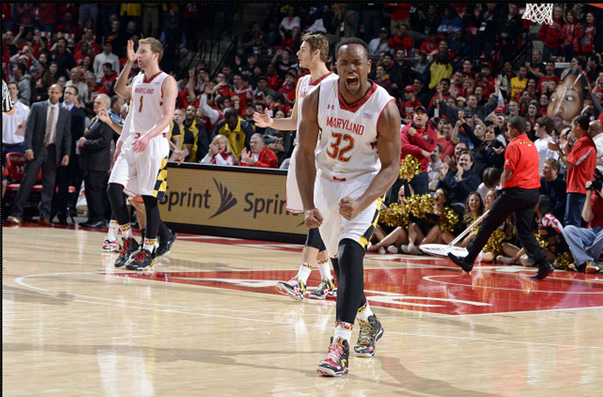 With the official start of practice three weeks from today, UM Hoops and Inside the Hall have again partnered to bring you a preseason breakdown of the top 25 players in the Big Ten for the 2014-2015 season.
Our selection process involved much deliberation to arrive at a list we hope will provide plenty of reaction and debate. The series will be broken into five parts and our fourth installment of players 10-6 is available below: (Previously: 25-21, 20-16, 15-11)
10. Dez Wells, Maryland (6-foot-5, guard, senior)
30.6 mpg, 14.9 ppg, 4.3 rpg, 2.2 apg, 1.1 spg, 50.8 eFG percentage
While freshman Romelo Trimble could be the x-factor for the Terps, Wells is the leading returning scorer for Mark Turgeon and should be one of the Big Ten's most versatile perimeter players. He used 25 percent of Maryland's possessions as a junior and posted an effective field goal percentage close to 51 percent. Wells uses his body very well to draw fouls and gets to the line as evidenced by his free throw rate of 58.1. His 14.9 points per game rank him as the fifth leading returning scorer in the conference and if Maryland is to rebound from a shaky 17-15 campaign and excel in its first Big Ten season, Wells will have to lead the way.
9. Andre Hollins, Minnesota (6-foot-2, guard, senior)
30.5 mpg, 13.6 ppg, 3.5 rpg, 2.4 apg, .9 spg, 47.0 eFG percentage
Hollins battled a severe ankle sprain last season, which forced him to miss two games and had him laboring once he did return to action. His 3-point shooting percentage took a large dip from his sophomore season (nearly seven percent), but he did get to the line far more frequently (49.7 free throw rate) as a junior than in his first two seasons. If he can continue to make attacking off the dribble a bigger of his game rather than just settling for jumpers, Hollins can take advantage of what is one of the better free throw strokes in the conference (84.1 percent). His usage has remained in the 24 percent range throughout his career and he's a solid pick for an all-league type season as he returns to full health.