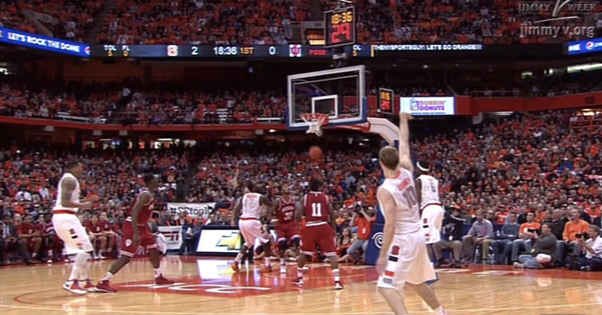 Thoughts on a 69-52 loss to the Orange:
This had the makings of a great one.
During their first true road game inside a rocking Carrier Dome, the Hoosiers withstood an early 10-0 deficit. They stopped settling for 3-pointers, started working into the teeth of the zone (or simply beat it back down the court before it could set up) and started scoring points. IU didn't shoot it great over the first 20 minutes (9-of-28, 32.1 percent), but it did what it does best by rebounding 50 percent of its misses and getting some putbacks — Troy Williams, in particular, had a spectacular tip-in — and some trips to the line (8-of-9, 88.9 percent).
Indiana also didn't let Syracuse have its way too much on offense. At half, the Hoosiers had scored a respectable 1.03 points per possession and trailed by just four (33-29). It was a man's game at the rim with both teams' back lines swatting shots — athletes all over the court on both sides of the ball.
Williams and Noah Vonleh (who lived at the line tonight and made 13-of-16) scored the first two buckets of the second half and this thing was all knotted up at 33 with 17:51 remaining. IU's freshmen feared little and it looked like the Hoosiers, if nothing else, were going to keep it close enough to make things interesting.