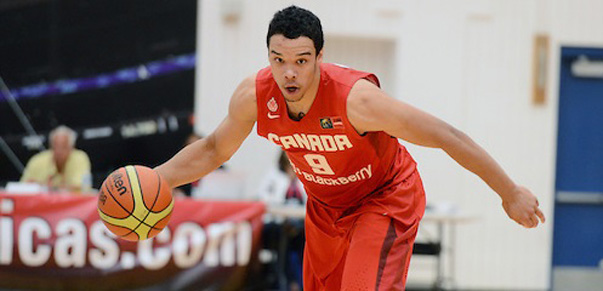 GARDEN GROVE, Calif. — Dillon Brooks admits he has been through a lot this summer.
The 6-foot-5, class of 2015 forward has played in FIBA Americas, AAU basketball for CIA Bounce, the LeBron James Skills Academy and most recently, adidas Nations.
But for the Ontario native who was struggling with ankle issues at adidas Nations, the past few months have been "great." The No. 94 prospect in the 2015 class, according to the 247Sports Composite, said he has added multiple high-major offers recently — including one from Indiana — and additional high-major interest.
And still playing with an injured ankle at adidas Nations, he averaged 23.5 points per game for Canada, which finished with a 3-2 record over the course of five games.
"It means a lot to be here, like just to be with all the NBA scouts, all the adidas Nations people — they all treat us well," Brooks said. "It's amazing to be here in California and having a great time."
Brooks came into this summer with little to no college interest — "I never had it," he said — but has made a quick rise through the ranks. For those unfamiliar with his game, Brooks believes he brings "a lot of attacking, a killer instinct" to the table, along with skill in the transition game, defending and facilitating.
"I'm a playmaker," he said. "I love to make plays and just win."
And colleges have taken notice.