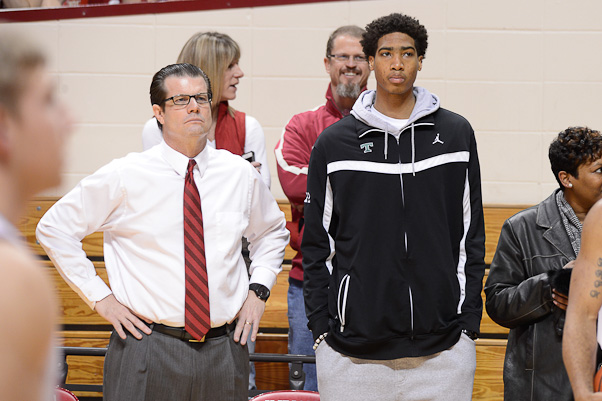 LOUISVILLE, Ky. — While it was only a summer league game played in front of less than 100 people on a Wednesday night in June, Louisville Trinity (Ky.) coach Mike Szabo was still working the sidelines and coaching his top player, rising senior Raymond Spalding.
Trinity reached the final four of the Kentucky state tournament last year, falling to Scott County 62-56 at Rupp Arena.
To get back there again in 2015, the Shamrocks need a big summer of improvement out of Spalding. Adding strength, becoming more aggressive on the glass and continuing to become more comfortable shooting away from the basket are just a few of the areas where Spalding can continue to grow.
"As a player, I need a coach like that to develop and be after me every minute of the game," Spalding told Inside the Hall on Wednesday. "I think he does a great job in practice, workouts and in games to push me."
A 6-foot-10, 210 pound post player, Spalding is a priority recruit for Indiana, which offered him a scholarship in March after scouting him frequently during his junior season.
Spalding took an unofficial visit to Bloomington last season for for IU's win over Michigan in early February.
"I'm a big priority to those guys. It's great, I love hearing stuff like that," he said. "In that program I feel like I can fit in well. Coach (Tom) Crean, he's a great guy. Coach (Tim) Buckley does a great job. They've done a great job recruiting me."
The Hoosiers, however, have plenty of company in their pursuit of the No. 82 player nationally, according to the 247Composite.