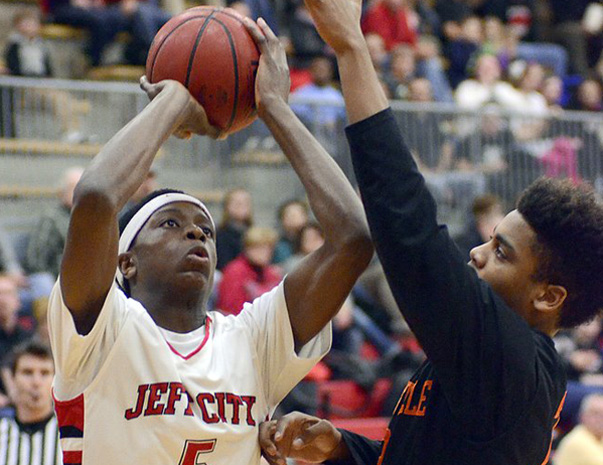 The recruitment of class of 2015 Jefferson City (Mo.) forward Ogugua "O.G." Anunoby will be coming to a conclusion soon, according to his high school coach.
Jefferson City coach Blair Thompson told Inside the Hall on Monday morning that Anunoby, who visited Bloomington over the weekend, has completed his official visits and hopes to have a decision soon.
"He said it (the Indiana visit) went really well," Thompson told Inside the Hall. "At this point, he has taken all of the official visits to the schools at the top of his list and I would anticipate, in talking to him, a decision within the next 7 to 10 days, at the most."
Anunoby, a 6-foot-8 forward, has taken official visits to Iowa, Georgia and Indiana.
He's rated the No. 240 prospect nationally in the 247Composite and became a target for the Hoosier staff over the summer when they saw him play for Team Thad.
"I think they ran into O.G. this summer and saw him late this summer," Thompson explained. "Since they saw him play with Team Thad this summer, they contacted me and have been in regular contact with O.G. and have stayed very, very persistent and active in his recruitment. They definitely have let him know that the interest is there. I think they've done a fantastic job of staying in communication with him and letting him know where they stand throughout the whole process."