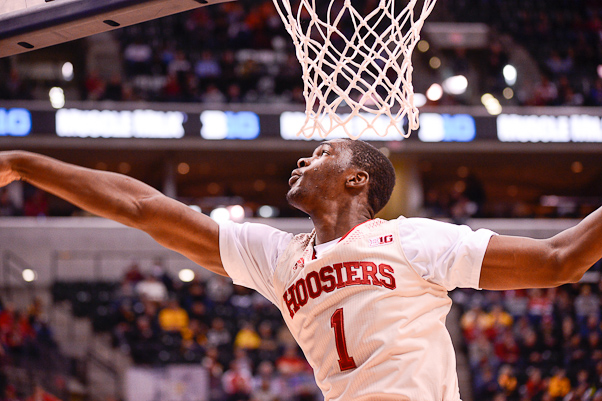 Welcome to "That's A Wrap," our recap of the 2013-2014 Indiana Hoosiers. Today, the final installment: Indiana's defense.
Final stats (32 games): 67.6 ppg, 41.2 FG %, 46.2 eFG %, 29.9 3P FG%, 35.6% FTR.
Indiana's season was epitomized by its ups and downs. From the optimism of a 63-52 win against Michigan to the shock of an 11-point collapse to Penn State in the final minutes in Assembly Hall, the Hoosiers' defense was prone to exactly that throughout the 2013-2014 season.
After losing almost all of their regular contributors over the offseason prior, the Hoosiers found a new identity that emphasized switching defenses and catching the opponents off-guard. It resulted in varying degrees of success throughout the season.
The Hoosiers held opponents to just a 29.9 clip beyond the arc this season — the best rate Indiana coach Tom Crean has ever had as a head coach. Despite the Hoosiers being undersized at times, opponents rebounded only 28 percent of their misses — also the best rate Crean has had as a head coach.
The highlights were plentiful on the defensive side this season: the main one being the Hoosiers shutting Michigan down in Assembly Hall on Feb. 2, and Wolverines coach John Beilein saying after the game "we hadn't seen anything like" what the Hoosiers implemented, defensively. Another was the Hoosiers' 72-64 win over Ohio State exactly a month later, when the defense held the Buckeyes to an 0-for-11 clip from beyond the arc.
But again, this was an up-and-down season.