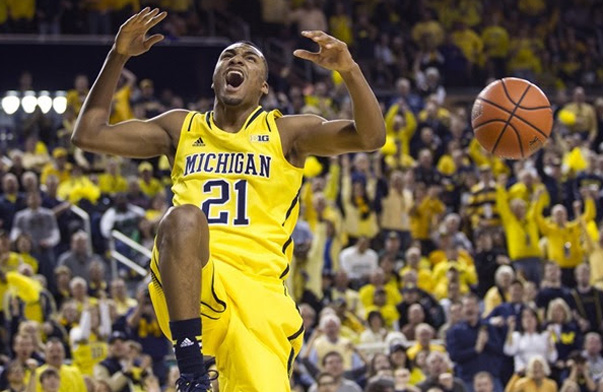 With the official start of practice less than four weeks away, UM Hoops and Inside the Hall have again partnered to bring you a preseason breakdown of the top 25 players in the Big Ten for the 2014-2015 season.
Our selection process involved much deliberation to arrive at a list we hope will provide plenty of reaction and debate. The series will be broken into five parts and our second installment of players 20-16 is available below: (Previously: 25-21)
20. Zak Irvin, Michigan (6-foot-6, wing, sophomore)
15.4 mpg, 6.7 ppg, 1.3 rpg, 0.4 apg, 0.2 spg, 59.1 eFG percentage
Last year we had Zak Irvin a bit overrated at No. 22 entering the season, but we also had his teammate Nik Stauskas dramatically underrated at No. 18. Irvin had a good freshman season – averaging 6.7 points off the bench while knocking down 43 percent on his three-point attempts – but he'll have much bigger expectations as a sophomore. If Michigan's trip to Italy was any bellwether, he's ready to make the jump. Irvin averaged a team-high 20.8 points per game, shooting 70 percent on 2s and 67 percent on 3s in four games overseas. As a freshman, Irvin fell in love with the three-point shot. Three out of every four shot attempts last season was from long-range and he managed 146 three-point attempts despite only playing 38 percent of available minutes. Irvin will score a lot this season, simply because he'll have so many more opportunities as he steps into the starting lineup, but don't expect him to make a Stauskas-like leap into a complete playmaker just yet.
19. Deandre Mathieu, Minnesota (5-foot-9, guard, senior)
30.1 mpg, 12.0 ppg, 2.7 rpg, 4.2 apg, 1.6 spg, 54.4 eFG percentage
The smallest player on our top 25 list, Mathieu had an impressive debut season for the Gophers last year. His assist rate of 31.1 percent is the best among returning Big Ten players and he also has the uncanny ability to score in and around the paint despite his stature. Mathieu shot 50 percent from three-point range last season, but only 14 percent of his field goal attempts were from long distance. Just over 70 percent of his shot attempts came within 12 feet, where he converted at a 54 percent clip. While we admire his courage to finish around the basket, improving his confidence and effectiveness from long distance should help diversify his game.