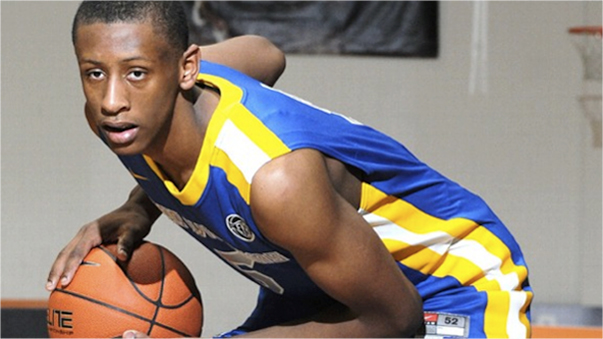 Growing up without a father

Troy Williams never knew his father, Yhosef Ware, and Troy's mother says she hasn't seen Ware since Troy was eight days old. Ware was a member of the military stationed at the Langley Air Force Base in Virginia, and he and Patty Williams struck up a relationship.
"We were together almost two years," Patty says. "And once I had Troy, he got out of the service. I didn't know where he was and child support couldn't find him. … He wanted to take Troy to Michigan to meet his parents and I told him, 'You're not taking my son anywhere without me.' That just wasn't gonna happen. I don't know if he caught an attitude about that or what, but I just didn't see him again. I figured if his parents want to see him, they can come here."
The way Ware sees it, he had no choice but to leave. He says he was 19 at the time — Patty was 28. Ware described himself as "young and wild," and those wild ways eventually forced him to leave the military. He says he tried to find another job in Virginia, but was not successful. On Dec. 15, 1995 — nearly a full year after Troy was born — Ware says he moved back home to Michigan.
"When I would go back to Virginia to visit, I never could find her again," Ware says. "I never had her number, her address or nothing. All the years that I've tried to get in touch with them, I finally got in touch with them [a couple years ago]. I've always tried, but with my financial circumstances, I had to leave."
Ware, now married with another son and still living in Michigan, found Patty's phone number a couple of years ago and connected with Troy for the first time. He wanted a chance to be part of Troy's life.
"I said, 'You know what, Troy's old enough now to decide what he wants to do,'" Patty recalls. "So I called Troy, and I said, 'Look, son, I talked to your father. I said, 'Do you want his number, or do you want me to give him your number?' He said, 'I don't know, what do you think I should do?' I said, 'Well, I'll tell you what. I'll give him your number.' So I gave him Troy's number and they talked. Troy's proud of where he's gone and the things that he's done, so he was telling him about it and where to go on the Internet and YouTube and where to see his highlight things at. When Troy made his decision to go to Indiana, I asked him, 'Did you call your father, did you tell him?' Troy said, 'I don't have anything to say to him. We have nothing to talk about.'"
"That's when my name was on ESPN and all that," Troy says. "Somehow he contacted my mom and contacted me, but I was never into it. After 13, 14, 15 years and then you just want to call now because you see I got my name out there? I didn't pay too much attention to it."
[Note: When told Troy had committed to play basketball at Indiana, Ware was both surprised and pleased. He says he bragged to a co-worker about Troy just a few days ago.]
'The quiet kid who didn't really have much'
Faced with raising Troy as a single mother, Patty had a difficult time making things work financially. She worked various fast-food jobs, but eventually she and her family made a decision they felt was best for Troy.
When he was in the fifth grade, Troy moved away from his mother and moved in with his grandmother in what Troy described as a "middle-class neighborhood" seven blocks away. It gave Troy a better living situation and it allowed his mother to get a job and earn money without the responsibility of raising a son full time.
"Growing up, me and my mother wasn't the richest," Troy says. "My uncle wasn't who he was just yet. It was really more of a money issue. I wasn't always getting as much stuff as I have now like shoes and clothes. I was more of the quiet kid who didn't really have much. Moving in with my grandmother, it was just an easier life for me."
"There was some things I had to get together in my life and get myself together, and that was the best thing for him," Patty says. "We stayed in contact every single day and I saw him every single day, but there was just some things in my life that I had to get together. And I did."
It didn't take Troy long to adjust to his new home. After all, he and his mother had regularly made trips to his grandmother's house on the weekends for church and family time. Troy had friends there, and his grandmother treated him well.
"She babied me even more than my mom did," Troy says. "She used to tell my uncle when I didn't want to do something. I never wanted to speak for myself. Me and my grandma grew real close together, and me and my mom grew even closer together."
Even though his father wasn't part of his life, Troy was never lacking in the family department. His aunt Terri and cousin, Brooke Williams, visited occasionally and were always willing to talk if he had a question. Troy says he often sits up on Twitter late at night tweeting back and forth with Brooke.
"That's like my closest friend," he says.
And then of course there's his uncle Boo, who played a large role not only in introducing Troy to basketball but also in helping him become a man. Boo stays plenty busy running his AAU program and working his day job at State Farm, but he's always made sure to find time to talk to and visit his nephew.
"My uncle was my father figure," Troy says. "He still is. I think he always will be. He grew me up, showed me how to mature and all that. He taught me new things and taught me right from wrong. He's replaced my father with himself. When I go through mental stuff or I just have a question, I either go to him and then my Aunt Terri."
But perhaps no relationship was closer than the one Troy formed with his grandmother. When he goes back home on visits from Oak Hill Academy now, Troy still stays at his grandmother's house.
"It was good for me," Ms. Williams says. "All my kids had moved out and everything. It was company."
"There was just no getting him out of that house and moving him back in with me," Patty says. "There was no splitting those two up. Now they fight like cats and dogs, but one can't do without the other."