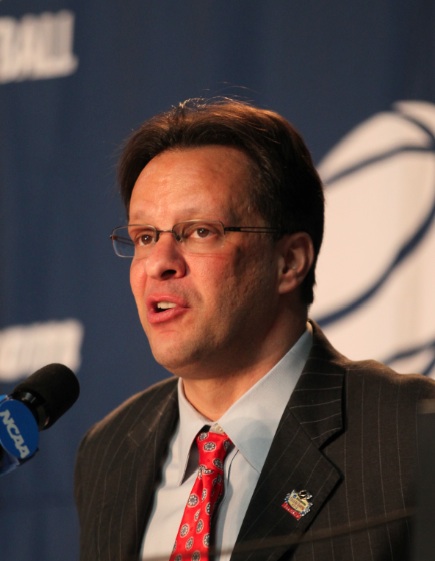 Indiana coach Tom Crean touched on a variety of topics when he addressed the IU student body and the public during his annual lecture Thursday night at the IU Auditorium.
He discussed the importance of family and education, he reminisced about some of the key moments from last year's improbable run to the Sweet 16, and he talked about his expectations for the upcoming season.
Here are some of the highlights from the evening:
1. Sheehey, Zeller improving
While Crean said all the Hoosier players have made strides in the offseason, he specifically pointed out junior Will Sheehey and sophomore Cody Zeller for their improvements.
"They're neck-and-neck right now for most improved players on the team," Crean said. "They're the ones who have stretched their games the most."
According to Crean, Sheehey, who averaged 8.6 points per game for IU last year and hit one of the biggest shots of the season against VCU, is in elite physical condition. Crean said Sheehey lasted an IU-record 14:06 during a VO2 treadmill test, and he has improved in the gym as well.
As for Zeller, already IU's best player heading into the offseason, Crean said his big man led the way over the summer. Given that opponents usually begin their game planning with Zeller, Crean knew IU needed him to develop his game in other ways.
"We had to get to a point this offseason where, no matter what [the opponents] do in their office, that he can go above and beyond that," Crean said. "He's so secure in his fundamentals and so good at reading what's going to happen that he takes his game to another level."
Crean said the coaching staff is trying to get Zeller to be able to get from one end of the court to the other in two dribbles. Right now, it's at three.
"Is he ever going to need that? He probably won't," Crean said. "But he needs that mindset."
2. Freshman to start?
There has been much speculation about what IU's starting lineup will look like when the season begins. With all five starters returning from the team that won two NCAA Tournament games and a recruiting class that includes Yogi Ferrell and Jeremy Hollowell, there clearly won't be enough starting spots for everybody.
While Crean didn't give any sort of a possible lineup to begin the year, he did say that a freshman may start.
"We might have eight or nine starters," Crean said. "I probably wouldn't put it in a Sharpie pen just yet, but I might use a fountain pen that we're probably going to start a freshman because that's probably what's going to happen. The battles are on right now."
The most likely candidate to fill the starting role is Ferrell. If the Park Tudor product takes Jordan Hulls' spot at point guard, Hulls — being a senior — could remain in the starting lineup as a shooting guard. If that happens, though, the Hoosiers will have two undersized guards in the back court, which could be problematic against bigger teams.
"I'm not worried about the offense," Crean said. "I don't lay awake at night for that. I lay awake at night for that defense. They've got to be able to work together defensively and really be good. It's not about playing two small guards if they're two of the best players to be on the court."
3. Perea, Watford dealing with injuries
Christian Watford dealt with a foot injury in the spring and had to be shut down for part of the summer, Crean said. Watford, who sought feedback from the NBA undergraduate advisory committee before deciding to return for his senior season, still has some work to do to get back to his regular form.
"There's no way that he's where he needs to be yet," Crean said. "But he's always shown me that when he's completely locked in, I haven't been around many people that get better like that."
Crean said freshman forward Hanner Perea has not been practicing due to a lingering foot injury. Perea was still in a walking boot at Crean's ProCamp in August, and he has been unable to take the court recently. When asked if Perea would be back for the Hoosier Hysteria dunk contest in October, Crean said: "I hope so."
4. Crean fearful of rushing Creek back
Given the Hoosiers' depth at nearly every position, it's hard to predict how guard Maurice Creek will fit into Crean's plan for the season. Creek tore his left Achilles and missed all of last season, and he had three major surgeries during a 22-month span.
"I've been slow to bring him back because I don't want him to go through that again," Crean said. "I don't know how he does it. I really don't."
As a freshman, Creek looked like the future of IU basketball. He scored 31 points against a dominant Kentucky team before injuring his knee later in the season in a blowout win over Bryant. Now, Creek just hopes to get back on the court for game action.
"If he'd of stayed healthy, he wouldn't be here anymore," Crean said. "He'd be getting ready for training camp, he'd of been gone.
"I've been so excited watching him the last couple weeks because he's getting better. He's not where he was and his body may never get to that. He's gotta get a lot stronger. His legs are not where they need to be. He's gonna have some moments that aren't going to be so good, and I'm going to have to live with it."
5. Crean talks end of Kentucky series
Crean was asked by a student for his thoughts on the Kentucky series, which fell through during the offseason. Kentucky insisted the series be played at neutral sites, and IU wanted to make it a home-and-home to keep the games on the campuses.
"We're just gonna sit here and wait for them to come to their senses," Crean said. "I think eventually it will turn, eventually this will become a home-and-home series. We want a two-year contract, we don't want more than that, but we were certainly willing to do more than that so that we could go up to Lucas Oil [Stadium] for two years in a row. We had given and then some on the situation.
"I think it'll be in our lifetime that they'll be back here."
Crean said the Hoosiers will bring in another "high-quality" opponent for a home-and-home beginning next year.
Tidbits
Crean said the Hoosiers will have another practice open to the public in addition to Hoosier Hysteria this season, but that will be set at a later date…Crean was asked about the drink he always has in a water bottle on the sideline during games, and he said it was HerbaLife Liftoff, a sugar-free energy booster…Crean said he hopes IU can attempt more than the 53.3 shots per game it averaged a year ago…Crean said look of disgust shown on ESPN immediately following the Kentucky win was in response to his team blowing a 10-point lead and needing a buzzer beater to win.
Quotable
"He just needs to be Brian Scalabrine for us."
– Crean on senior forward Derek Elston
Audio
Listen to 58 minutes of Crean's speech in the embedded media player below: (Note: file size is large and may take some time to load)