The Minute After: UConn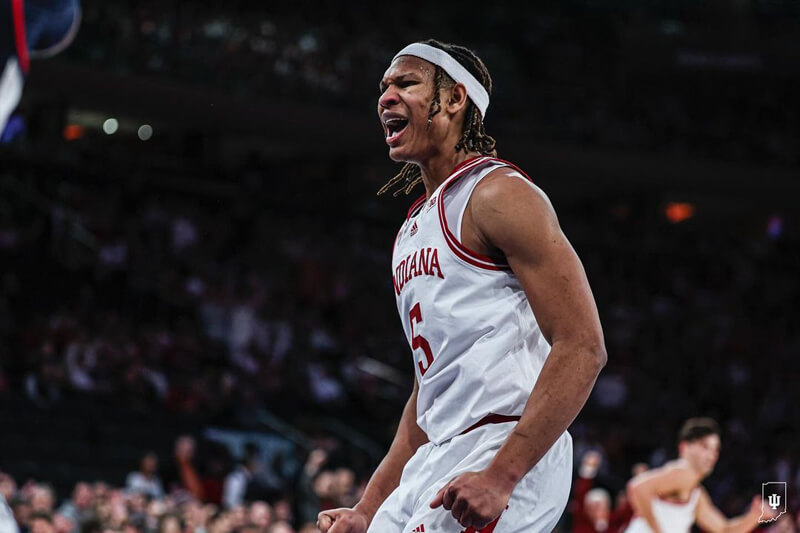 Thoughts on a 77-57 loss to UConn:
Indiana just couldn't hang in this one.
Sure, a disjointed start by both teams kept the Hoosiers in striking distance, trailing by just three points (16-13) at the 8:55 mark. By half, Indiana was in okay shape, heading into the break down by seven. But as the second half progressed, especially over the last 10 minutes, Indiana fell apart as the Huskies asserted their dominance.
So far this season, Indiana has been able to overcome a lack purpose or identity against lesser opponents. But versus a team looking to win back-to-back national championships? It resulted in a 20-point loss.
Malik Reneau picked up right where he left off against Wright State, scoring 18 points on 7-of-9 shooting by going to work down low. He was the reason Indiana found itself somewhat close at half. But he'd foul out with 7:04 to go in the game when things were starting to slip away fast. Beyond Reneau, Indiana didn't have much else to hang its hat on offensively. Galloway tried to steady things in the second half and chipped in eight points after the break for 10 total. Kel'el Ware had 11 points, but finished just 2-of-10 from the field. Indiana just didn't find him much in the second half, as he took just two shots.
Xavier Johnson, dogged by foul trouble himself this afternoon, took two shots and scored four points. He fell into his habit of complaining after foul calls. Indiana simply needs more from its super-senior leader. Mackenzie Mgbako had another forgettable performance. He's still not engaged enough defensively and didn't make a shot all game (0-of-3). CJ Gunn had a solid performance on both ends, but finished just 2-of-7 from the field.
And some of the team stats tell a sorry tale. Indiana made just 3-of-13 (23.1 percent) from distance. The Hoosiers had zero second-chance points. They allowed the Huskies to rebound 45 percent of their misses. They scored only .86 points per possession while surrendering 1.16.
A lot of this was about fundamentals, cohesion, energy, engagement and effort. UConn simply had more of all of it. It's been a continual theme in the early goings here, but Indiana has yet to play at a high enough level of defense consistently to make things hard enough on opponents. Communication is too non-existent, as the Hoosiers gift opponents open shots and good looks. And on offense, things are looking a lot like last season, Indiana relying heavily on a lefty big man off the right low block to carry a heavy load with not much coming from the perimeter.
After today, Indiana's defensive efficiency sits at No. 78 on KenPom. And its offensive efficiency is worse at No. 88. The Hoosiers have also fallen from No. 50 to No. 77 overall. These are the type of numbers that don't project well to conference success or a sure-fire tourney berth.
"I think this was a wake up call for our ball club," Mike Woodson said on the post-game radio show. "I got a lot of work to do still with this team."
There's plenty of time to do that. But Indiana is currently in rough, foggy waters. Can Woodson right the ship and get his team to shore? Or is this season going to be forever lost at sea?
(Photo credit: IU Athletics)
Filed to: Connecticut Huskies