What to Expect: Indiana vs. Wright State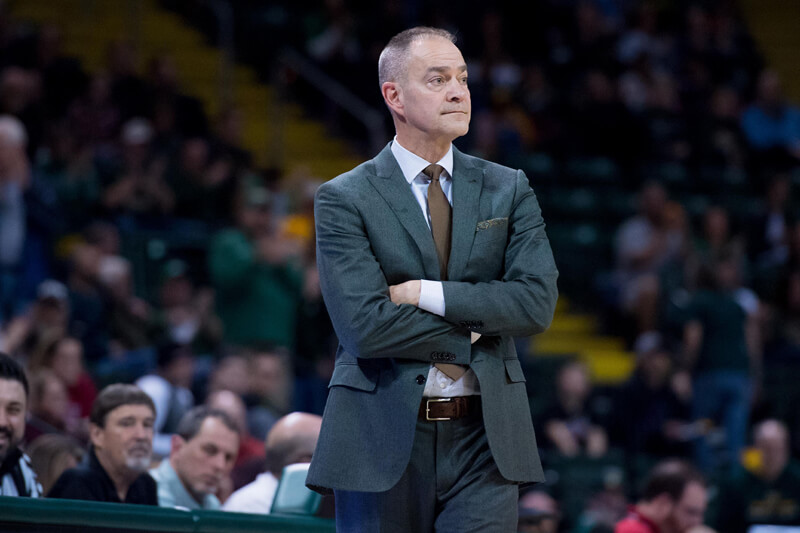 Indiana will seek its third win when it hosts Wright State on Thursday night at Assembly Hall. The Raiders are 0-2 with a 105-77 loss at Colorado State and a narrow 78-77 loss at Toledo.
Thursday's game will tip at 7 p.m. ET on BTN:
Indiana is 2-0, but it has been challenging.
The Hoosiers trailed by six in the second half of a 69-63 win against Florida Gulf Coast in the season opener. On Sunday, Indiana couldn't pull away from Army until late as the Black Knights hit 13 3-pointers in an eight-point Hoosier victory.
Indiana now hosts Wright State, picked to finish third in the Horizon League, before traveling to New York for the Empire Classic, which begins Sunday.
MEET THE RAIDERS
Scott Nagy is in his eighth season at Wright State and has twice taken the Raiders to the NCAA tournament (2018 and 2022). In the preseason, Wright State was picked to finish third in the Horizon League behind Northern Kentucky and Milwaukee.
The backcourt duo of Trey Calvin and Tanner Holden leads the Raiders.
The 6-foot Calvin was named the preseason Horizon League player of the year after averaging 20.3 points and 3.7 assists per game last season. Through two games, the senior has scored a team-high 55 points, is shooting 53.8 percent from the field and has made six of his 12 3-point attempts.
The 6-foot-6 Holden, who began his career at Wright State, played last season at Ohio State before transferring back to Wright State for his final season of eligibility. The 6-foot-6 wing is averaging 15.5 points, five rebounds, 2.5 assists and 1.5 steals through two games.
Junior Alex Huibregtse made 39.3 percent of his 3s last season but is 0-for-7 from deep through two games. The Grafton, Wisconsin native attempted more than four 3-pointers per game last season, so he must be accounted for on the perimeter.
Rounding out the starting lineup for Nagy in the frontcourt are 6-foot-9 junior AJ Braun and 6-foot-8 sophomore Brandon Noel.
Noel was the second-best defensive rebounder in the Horizon League last season as a freshman who can also finish plays at the rim and block shots. Noel was seventh in the league last season in block percentage and also made 64 percent of his 2s. He can also step out and knock down perimeter shots when needed. Last season, he shot better than 36 percent from distance and he's 3-for-4 from deep through two games.
Braun plays the five and is third on the team in scoring through two games at 12 points per contest. He's not a perimeter threat but is solid on the offensive boards, as he ranked seventh in the league last season in offensive rebounding percentage.
The other three Raiders averaging double-figure minutes early this season are freshman big man Drey Carter, freshman guard Kaden Brown, and freshman Logan Woods.
Carter is 5-for-8 from the field through two games, but Brown and Woods have combined for only six points in two games. Three of Wright State's starters are averaging more than 31.5 minutes per game as Nagy attempts to acclimate his freshman class to the college game.
THOUGHTS ON THE MATCHUP
Through two games, offense hasn't been a problem for Wright State. Despite taking a low volume of 3s, the Raiders scored 77 points in their two losses.
The low volume of 3s isn't new to the Raiders under Nagy. Dating back to the 2019-20 season, Wright State hasn't ranked higher than 265th nationally in 3PA/FGA, according to KenPom. This season, the Raiders sit at 26.7 percent in that metric. For comparison, Indiana is at 27.3 percent.
After two poor offensive performances, will Indiana show more promise against a team allowing 91.5 points per game through its first two contests?
The Hoosiers have looked lost offensively without Trayce Jackson-Davis and have yet to get freshman Mackenzie Mgbako going.
But it's more than Mgbako who has struggled offensively for Indiana. Bench production has been meager with Anthony Walker, CJ Gunn and Kaleb Banks all struggling through two games.
WHAT IT COMES DOWN TO
The KenPom projection is Indiana by 11 with an 84 percent chance of a Hoosier victory. However, as we've seen through two games, Indiana is inconsistent and trying to figure things out on the fly with many newcomers.
After the Army win, Xavier Johnson's comments about Indiana's preparation gave insight into the team's struggles through two games.
"We're not going as hard," Johnson said of the team's work in practice. "I think our preparation led to that, and that's what I believe."
Indiana has now started poorly for two straight games. Mike Woodson said his starters "stunk" in the first half of the first two games in his postgame comments on Sunday. The bad habit of not starting games with focus will soon catch up to Indiana with a tough schedule on the horizon.
Woodson admitted that he has to "figure that out," meaning the slow starts, but it's also on Indiana's leaders and upperclassmen to take ownership of the problem. With his comments, Johnson seemed to do that after the Army game, but will it change quickly?
"We have a whole bunch of talent," Johnson explained. "I know it's hard to see right now, but we actually do have a lot of good talent.
"We need to share the ball, move the ball, get the ball up the floor and run because that's what the offense is supposed to do. We're supposed to get out and get stops, and I think that's the main problem is we're not getting enough stops to get out and run."
Filed to: Wright State Raiders