2023-24 Non-conference opponent preview: Morehead State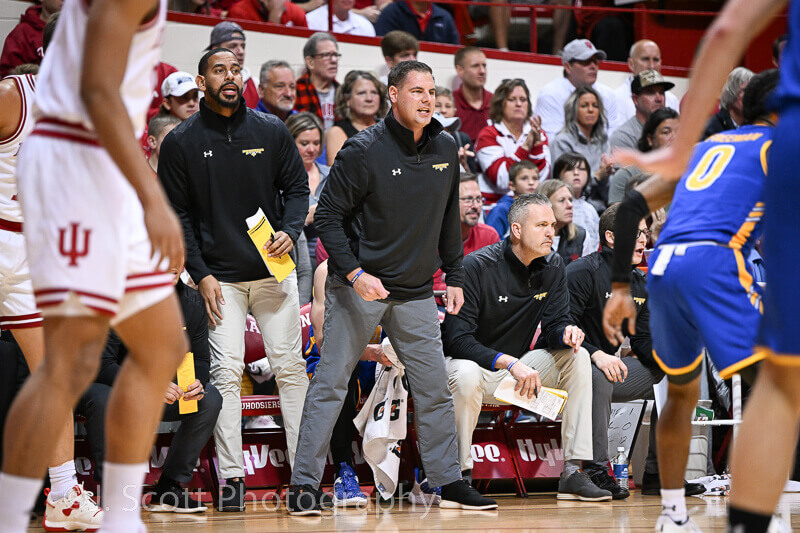 Indiana's 2023-24 non-conference schedule was finalized on June 27 and Inside the Hall will have a team-by-team look at each opponent. Today: Morehead State.
Indiana men's basketball kicked off its 2022-23 season with a contest against Morehead State, which the Hoosiers won in a dominant 88-53 fashion. The two will face off again this season at Simon Skjodt Assembly Hall on December 19.
The Eagles are coming off a 22-12 season in which they fell in the first round of the Ohio Valley conference tournament and lost in the second round of the National Invitation tournament. The 2022-23 season marked the third season in a row the Eagles posted 20 or more wins. They went 14-4 in conference play and are projected as the No. 1 team in the OVC per Bart Torvik, who has the team ranked at No. 160 in the country entering the 2023-24 season.
Head coach Preston Spradlin, who was named OVC coach of the year after the season's conclusion, will be entering his seventh season as head coach at Morehead State. He has a wealth of returning talent and experience on his roster and highly regarded newcomers who could lift the Eagles to another successful season.
Their work will be cut out against the Hoosiers, but December's game could prove to be exciting nonetheless, as both teams will have had more time to develop as a group. The Eagles will come into the season with a healthy amount of chemistry already, as a core group of upperclassmen make up the notable returnees. Mark Freeman is the headliner, as the 5-foot-11 guard was named the OVC player of the year and led the team in scoring (449 points) and points per game (15), assists (112) and assists per game (3.7), free throw percentage (86.4) and steals (36). The rising senior shot 40.5 percent from the field and 36.2 percent from beyond the arc. Freeman scored 14 points and totaled three rebounds against the Hoosiers last season.
The only returning Eagle who started in all 34 games last season comes in Drew Thelwell, who will be entering his junior year. The 6-foot-3 guard averaged 11.1 points per game for third-best on the team and averaged 4.3 rebounds and 2.8 assists per game. Thelwell was the most efficient three-point shooter on the team, making 51 3-pointers while shooting at a 38.1 percent clip. Against Indiana last season, he made three shots from beyond the arc and scored 11 points with four rebounds. Kalil Thomas, a 6-foot-6 guard who will be a graduate student this season, totaled 64 3-pointers to lead the team while also shooting 38.6 percent from the field. Thomas played in 33 games and started in 24, averaging 7.8 points and 4.9 rebounds per game.
Morehead State will be without some of its familiar faces from last year, as Alex Gross and Jake Wolfe exhausted their collegiate eligibility. Both appeared in all 34 games, with Gross, a forward, starting in every game and Wolfe, a guard, starting 33. Gross averaged 24.4 minutes per game with 12 points and 7.4 rebounds per game and Wolfe averaged 9.1 points per game alongside 3.2 rebounds and a total of 86 assists, good for third-best on the team.
However, Spradlin and the Eagles likely will feel those losses less as incoming transfers and freshmen are expected to provide help. Guard Jalen Windham and forward Dieonte Miles will come in with some familiarity with Indiana basketball, as they formerly played at Ball State and Xavier, respectively. Windham, an Indianapolis native, averaged 5.9 points per game and shot 39.8 percent from deep. Miles will be the tallest Eagle on the roster, at 7-feet tall. He averaged 1.5 rebounds and recorded 23 career blocks in three seasons at Xavier. He played seven minutes against Indiana last November and recorded one block, one turnover and one personal foul.
Incoming freshman George Marshall, the No.1 shooting guard in Mississippi, will join the Eagles after one season at Itawamba Community College, where he averaged 16.4 points per game. Guard Jerone Morton, ranked the No. 2 player in Kentucky per Prep Hoops and Rivals, and 6-foot-10 forward Mekhi Grant will also be newcomers on the Eagles roster.
Historically, Indiana has had great success against the Eagles and this season likely won't be much different. But the Eagles, as they have for the last few seasons, seem to stand at least a chance to compete and display their talent on Branch McCracken Court.
Filed to: Morehead State Eagles