2023-24 Non-conference opponent preview: Kansas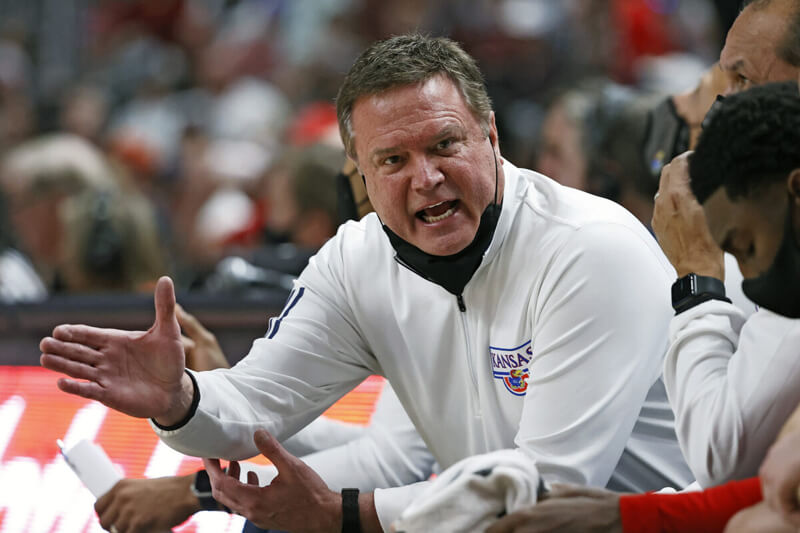 Indiana's 2023-24 non-conference schedule was finalized on June 27 and Inside the Hall will have a team-by-team look at each opponent. Today: Kansas.
Indiana will complete its home-and-home series with Kansas at Assembly Hall on Dec. 16.
Last year's contest was an 84-62 beatdown for the Hoosiers, but the major loss in Lawrence was Xavier Johnson's season-ending foot injury. The two programs have faced each other 14 times and have split the series at seven wins each.
As usual, Bill Self will enter the 2023-24 season with one of the best teams in college basketball. Self, one of, if not the best, coach in college basketball, lost his two best offensive producers from his one-seed caliber squad last season in Gradey Dick and Jalen Wilson. But for Kansas, replacing this talent isn't an issue. The Jayhawks staff hit the transfer portal and added two of the best transfers in the country, Michigan center Hunter Dickinson and Towson guard Nicolas Timberlake.
The Jayhawks underwhelmed in post-season play last season, losing to Texas in the Big 12 tournament and falling in the round of 32 to No. 8 seed Arkansas. Kansas wasn't below average in any category last season, but if the roster lacked anything, it would be size. Down the stretch of last season, the 6-foot-8 Wilson and 6-foot-7 KJ Adams, who is returning to Lawrence, typically rounded out the frontcourt that Self trusted. While Adams has great athleticism, this wasn't sustainable and caused a lot of foul trouble that specifically hindered Kansas against Arkansas in its season finale. The addition of Dickinson not only answers this problem, but Dickinson has proven to be one of the best players in the country.
At Michigan, Dickinson hailed honors as a three-time All-Big Ten member and a second-team All-American. The 7-foot-1 center has averaged 17.2 points and 8.4 rebounds on 57 percent and 36 percent shooting splits. Dickinson is a much-improved shooter than he was at the start of his college career.
Timberlake shot a ridiculous 41.6 percent from beyond the arc last season at Towson and posts a solid 6-foot-4 frame. The Massachusetts native is bringing five years of college basketball experience to Lawrence. The sharpshooter averaged 17.7 points per game last season for the Tigers and was one of the most highly touted players in the transfer portal.
Kevin McCullar is the best-returning wing defender on this Jayhawks squad. In his first year at Kansas, McCullar was a semifinalist for the Naismith defensive player of the year and was a member of the Big 12 All-defensive team. McCullar is a struggling shooter from distance (30 percent for his career) but has excellent length at 6-foot-7 and gets out in transition well. The former Texas Tech Red Raider tested NBA draft waters but ended up back in Kansas. McCullar is another experienced starter who has seen the ins and outs of Big 12 basketball.
While McCullar's length is giving opposing forwards issues, senior Dajuan Harris is a lockdown defender on the perimeter. The reigning Big 12 defensive player of the year returns for his third consecutive season as the Jayhawks starting point guard. Harris led Kansas in steals (78) and assists (224) in 2022-23. The 224 assists are 144 more than anyone on the squad and his per-game average of 6.2 helpers was sixth nationally. Harris has never been a high-volume shooter, but he proved last season he could do more than just run the break and defend. The 6-foot-2 point guard shot 41 percent from 3-point distance on 70 attempts and while just averaging 8.9 points, it was a 3.5-point increase from the year before. Expect Harris to have an increased offensive impact on the floor this upcoming season as he continues to specialize defensively and as a floor general.
A more overlooked addition to the program is sophomore Texas transfer, Arterio Morris. The 6-foot-4 guard was a McDonald's All-American out of high school and averaged 11.7 minutes off the bench for a good Longhorns squad. The former five-star has explosive athleticism with a great first step and could be the slasher Self is looking for in the two-guard spot. Some quirks need to be worked out with his jumper, but at Kansas, he won't be asked to do too much right away.
An argument could be made that this upcoming year's Kansas squad is better on paper than the one-seeded squad last season. Self's team is filled with experience and two of the best transfer additions. It will also be the first time in years Self will have a big man as a number one option in Dickinson. That could take some getting used to, but Kansas is poised to be one of the best teams in the country (again). Bart Torvik has the Jayhawks as the No. 2 ranked squad entering the 2023-24 season behind Purdue.
Filed to: Kansas Jayhawks