A look at final NBA Summer League statistics for Jalen Hood-Schifino, Trayce Jackson-Davis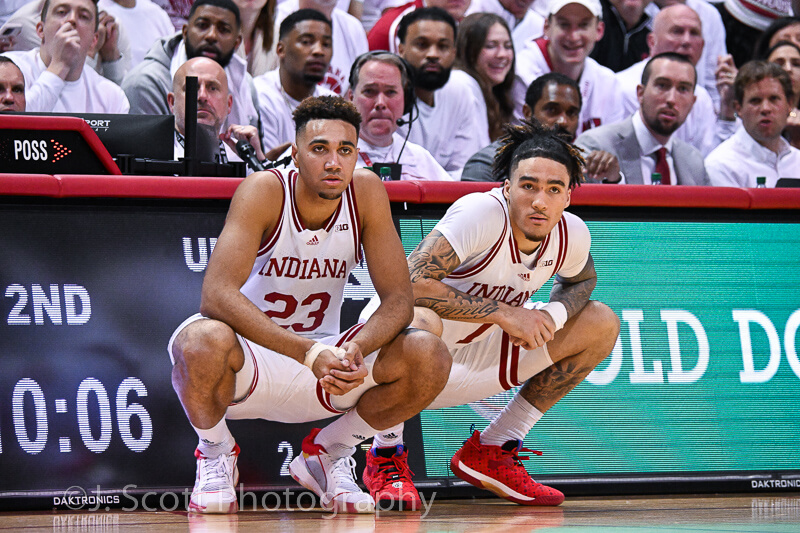 Former IU standouts Jalen Hood-Schifino and Trayce Jackson-Davis wrapped up NBA Summer League play over the weekend.
On Tuesday, IU issued a release recapping the statistics for both players at Summer League, which is available below:
BLOOMINGTON, Ind. – Former Indiana men's basketball standouts Jalen Hood-Schifino and Trayce Jackson-Davis wrapped up play at the California Classic Summer League and NBA 2k24 Summer League.

For the Los Angeles Lakers, Hood-Schifino averaged 13.7 points, 4.2 rebounds, 3.3 assists, and 1.3 steals per game in six appearances in Sacramento and Las Vegas. He shot 34.0% (32-of-94) from the floor, 21.7% (5-of-23) from the 3-point line, and 56.5% (13-of-23) from the free throw line.

The No. 17 overall pick in the 2023 NBA Draft produced four games in double figures in the scoring column, including a summer-best 20 points on 8-of-17 shooting in the California Classic finale against San Antonio on July 5. He also added four assists, three rebounds, and one steal in the game. His summer league debut included 15 points, five rebounds, and four assists against the defending Eastern Conference champion Miami Heat on July 3.

His Las Vegas stint kicked off with nine points, five rebounds, three assists, a summer-best four steals, and one block in a 103-96 victory over the Golden State Warriors on July 7. He then posted back-to-back 15-point outings against the Charlotte Hornets (July 9) and the Boston Celtics (July 12). JHS combined for seven rebounds and eight rebounds in the two games. He closed the summer with eight points, five rebounds, and two steals against Memphis on July 14.

In two games for the Golden State Warriors, Jackson-Davis averaged 16.0 points, 8.5 rebounds, 1.5 assists, 1.5 steals, and 1.5 blocks per contest while shooting 66.7% (14-of-21) from the floor and 66.7% (4-of-6) from the free throw line.

In his debut in Las Vegas, the Consensus All-American posted 14 points on 6-of-9 shooting to go with seven rebounds, one assist, one steal, and one block against the Houston Rockets. His encore performance included an 18-point, 10-rebound double-double against the Toronto Raptors. He added two assists, two steals, and two blocks in the game.
The 2023-24 NBA season begins in October.
Filed to: Jalen Hood-Schifino, Trayce Jackson-Davis