What they're saying: Jalen Hood-Schifino and Trayce Jackson-Davis wrap up NBA Summer League play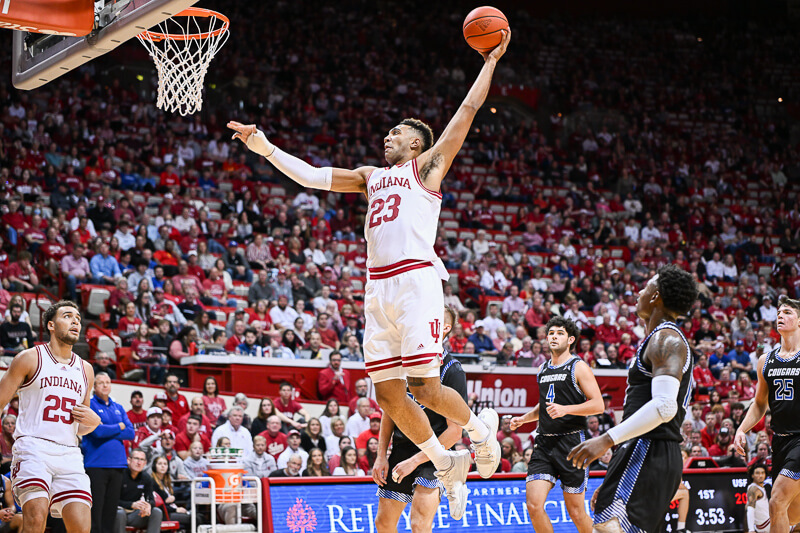 The NBA Summer League concludes today with Cleveland and Houston facing off in the final on ESPN at 9 p.m. ET.
The two former Hoosiers who participated in the Summer League – Jalen Hood-Schifino and Trayce Jackson-Davis – wrapped up play over the weekend.
We've compiled final stats for Summer League for both players below. In addition, we've rounded up a few notes on each player from around the Web.
Jalen Hood-Schifino – Los Angeles Lakers
Final numbers in 4 games: 11.8 points, 4.3 rebounds, three assists, 1.5 steals, one turnover and 0.5 blocks in 29 minutes per game. Hood-Schifino shot 31 percent from the field, 35.7 percent on 3s and 46.2 percent from the free throw line.
• Dan Woike of The Los Angeles Times:
Scouts and executives are evenly split on first-round pick Jalen Hood-Schifino, a 6-6 point guard whom the Lakers drafted 17th.

Some point to his bizarre shot profile at Indiana. His best work came in the midrange and the top of the key, while he struggled at the rim. There are questions about his burst off the dribble and vertical athleticism.

Others point to his command and size at point guard and are quick to point out that the goal at No. 17, at least mathematically, is to draft a contributor. If you do that, you've won.

The shooting needs work, but he's shown the defensive and passing potential to justify his draft slot, one executive said.
• Darius Soriano of Silver Screen and Roll:
One of the things that has stood out most to me about JHS is the pace he plays at, and how that translates to his ability to get the team into positions where they can get good looks at the basket — either because he created the shot for himself or for a teammate. He never seems to be in a hurry; even when he's moving fast, there's a steadiness to his pace that belies the quickness in which he gets from point A to point B.

At times it's as if he's traversing around the court on one of those airport motorized walkways, moving with an earnest effortlessness that stands out for both its effectiveness and its efficiency. He combines this pace with what I refer to as a strong "functional handle" where he's able to go left or right to get to his spots with ease and does so without a reliance on fancy dribble combos to shake his man.
Trayce Jackson-Davis – Golden State Warriors
Final numbers in 2 games: 16 points, 8.5 rebounds, 1.5 assists, 1.5 steals, 1.5 blocks and two turnovers in 22.3 minutes per game. Jackson-Davis shot 66.7 percent from the field and the free throw line.
• Brady Klopfer of Golden State of Mind:
Jackson-Davis looked large and athletic, and put up good stats: 14 points on 6-for-9 shooting with seven rebounds, one assist, one steal, and one block. None of those things were enough for us to jump to irrationally positive conclusions, but there were all good enough to keep us from jumping to irrationally negative conclusions.

What I noticed was his style and his reads. The Warriors have a long history of ending up with big men who can't make the reads or, as is often the case, can't make them fast enough. From youngsters like Damian Jones and James Wiseman to veterans like Jason Thompson and Jonas Jerebko, the Warriors have, in the words of the great Taylor Swift, seen that film before. And they didn't like the ending.

So the early returns of Jackson-Davis looking ultra-comfortable and making the right reads all night long are glistening. He made the right reads over and over. Cutting and screening in the right place at the right time. Making the right pass. Knowing when not to pass.

But most impressive was how quickly he did it. He didn't download the data like Neo getting a chip plugged into his brain. He just reacted.
• Eric Apricot of DubNation HQ:
He already looks good enough to me to play the JaVale McGee role for a few minutes a game. Intimidate around the rim (and maybe jump a little less for blocks), fight for rebounds, keep the ball moving, Run the floor hard, roll hard after setting solid picks, catch every weird pass, dunk every lob.
Filed to: Jalen Hood-Schifino, Trayce Jackson-Davis