A look at the computer numbers for all of Indiana's 2023-24 non-conference opponents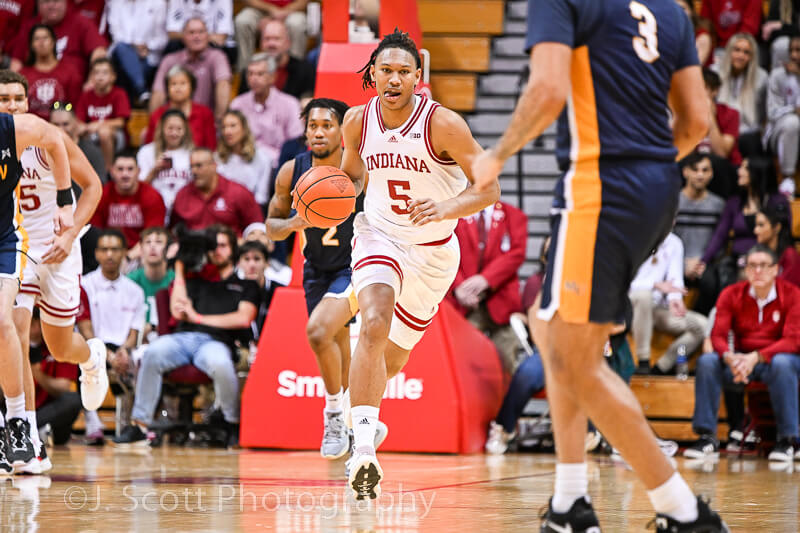 All of Indiana's non-conference opponents for the 2023-24 season are known.
The Hoosiers will play 11 non-conference opponents and the only thing left to be settled is which two teams – UConn, Texas and Louisville are the options – IU will face in the Empire Classic.
Mike Woodson and the Indiana coaching staff have put together a challenging non-conference slate for next winter. According to Bart Torvik's projections, Indiana won't face an opponent ranked below 291st (Army) entering the season.
Here are all of Indiana's non-conference opponents for next season with their KenPom and NET rankings from last season and their projected ranking for the 2023-24 campaign from Bart Torvik:
Florida Gulf Coast (17-15) – November 7 at Assembly Hall
KenPom: 185
NET: 181
Torvik for 2024: 118
Army (17-16) – November 12 at Assembly Hall
KenPom: 248
NET: 246
Torvik for 2024: 291
Wright State (18-15) – November 16 at Assembly Hall
KenPom: 197
NET: 197
Torvik for 2024: 134
UConn (31-8) – Potential opponent in the Empire Classic, November 19-20 at Madison Square Garden
KenPom: 1
NET: 3
Torvik for 2024: 4
Texas (29-9) – Potential opponent in the Empire Classic, November 19-20 at Madison Square Garden
KenPom: 5
NET: 7
Torvik for 2024: 9
Louisville (4-28) – Potential opponent in the Empire Classic, November 19-20 at Madison Square Garden
KenPom: 290
NET: 314
Torvik for 2024: 138
Harvard (14-14) – November 26 at Gainbridge Fieldhouse
KenPom: 158
NET: 150
Torvik for 2024: 245
Auburn (21-13) – December 9 at State Farm Arena in Atlanta, Georgia
KenPom: 32
NET: 35
Torvik for 2024: 24
Kansas (28-8) – December 16 at Assembly Hall
KenPom: 9
NET: 9
Torvik for 2024: 2
North Alabama (18-15) – December 21 at Assembly Hall
KenPom: 256
NET: 242
Torvik for 2024: 195
Kennesaw State (26-9) – December 29 at Assembly Hall
KenPom: 123
NET: 116
Torvik for 2024: 142
Morehead State (22-12) – Date TBA at Assembly Hall
KenPom: 237
NET: 219
Torvik for 2024: 222
Filed to: 2023-24 schedule